Did you know...
The Lansing School District has 10,799 students with 2,213 being bilingual (20% of district)

English Learners represent 18% (1,935 students) of the total student population

We have welcomed students from 70 different countries who speak 61 languages
The Bilingual Education Department serves the Lansing School District as a centralized location for data, assessment, staffing and services to our bilingual students, families and staff. Our mission is an educational system that embraces our refugee, immigrant and language minority students and adapt our educational services to provide a learning environment where these students can succeed, integrate and participate fully at all levels.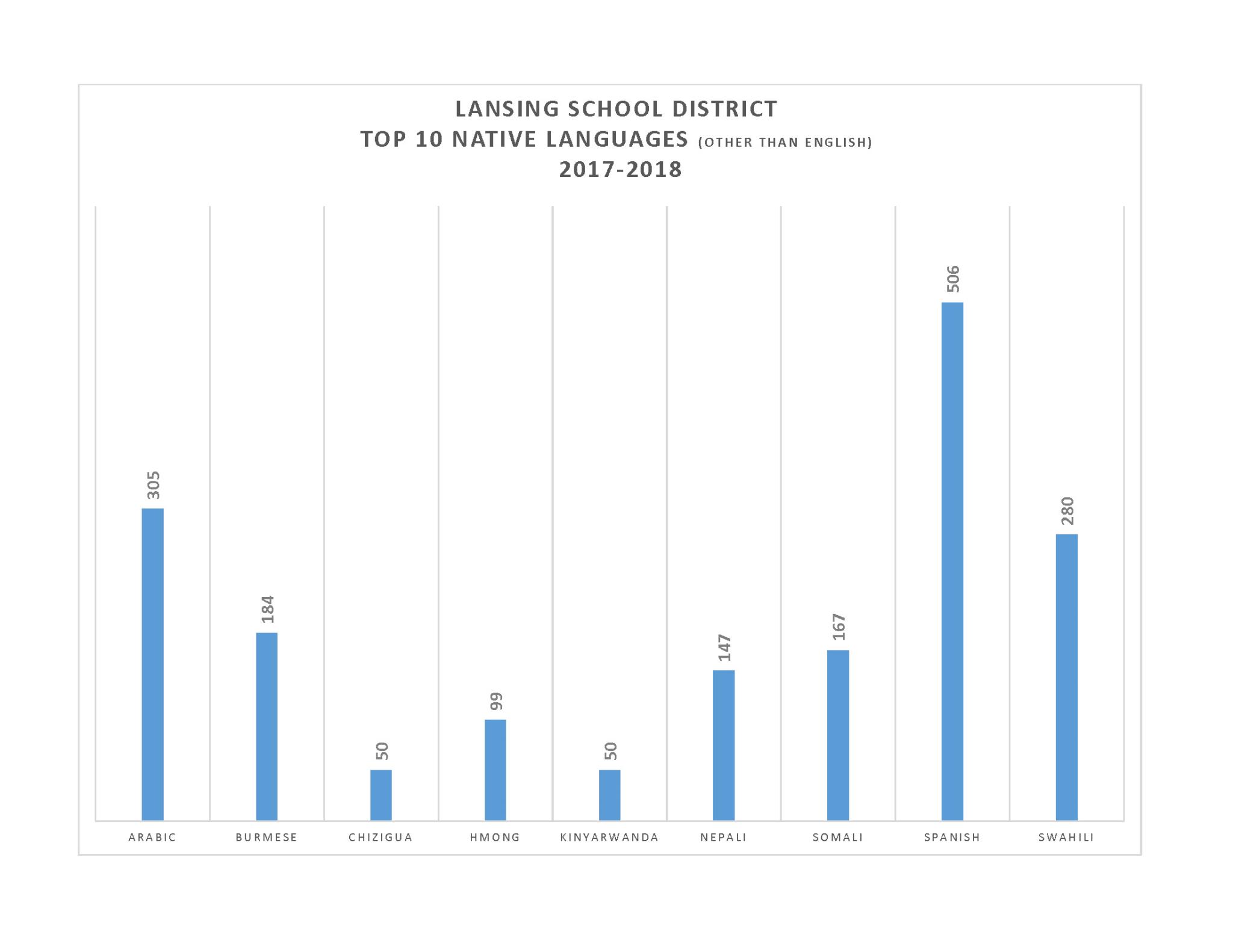 5 Year Growth Rate of EL Population
The Lansing School District continues an upward trend of EL enrollment. Since 2012 the amount of ELs enrolled in the district has surged 20% and their yearly enrollment has increased by 34%.
The data also shows a rise in the percentage of total population of ELs during the past five years. In 2012 ELs made up 10% of total student enrollment compared to 16% in 2016.
| Year | Total EL | New EL |
| --- | --- | --- |
| 2012 | 1412 | 266 |
| 2013 | 1416 | 249 |
| 2014 | 1469 | 239 |
| 2015 | 1508 | 207 |
| 2016 | 1760 | 401 |
Services We Provide
Language Instructional Educational Programs
The Lansing School District offers Language Instructional Educational Programs (LIEP) for English Learners at Cumberland, Sheridan Road, North, Gardner, and the three high schools. Programs provide services with highly qualified ESL teachers, Specialized Assistants/Bilingual Educators, SIOP trained content area teachers, and referrals to available community services.
Every academic year, each school is assessed and ranked by the number of students speaking a given language. This data provides the framework for the creation of a Bilingual Assistant schedule where staff languages are paired with the greatest needs in each school. Bilingual Assistants are funded with supplemental funds which include: Title III LEP, Immigrant, Title I, and Section 31a.
Bilingual Resource Center
The Elmhurst Welcome Center offers a Bilingual Resource Room where staff are free to browse and borrow resources to assist in the teaching of a variety of subjects and English language levels. Should a staff member wish to obtain his/her own copy of a resource, the Welcome Center will facilitate this purchase (provided funds are available).
After surveying district teachers and staff regarding resource needs, Title III funds were used to purchase:
Picture dictionaries and flash cards which can be used at the elementary level
Content area dictionaries for the secondary level
National Geographic resources to support 7-12th grade levels
Resources to support learners for Entering, Emerging and Expanding language levels
Books for parents of early childhood students to read to their children in their own native languages (note: research has proven the positive effects of a parent retaining their native language with their children)
Specialized training is also offered on a one-to-one basis to help teachers learn what resources meet their needs best and how to utilize the resource in their practice. Staff are welcome at any time to drop on or make an appointment for consultation and training.
Finally, an "Available Resources" document and LSD Toolkit has been created to provide resources to all staff working with ELs (see appendix).
Bilingual Intake Office
In 2016, the Lansing Welcome Center and Bilingual Intake Office were created to provide a resource where the newly arrived could enroll, be tested for English proficiency, and also be screened for stressors that are important to identify when helping children fleeing trauma and war. The Welcome Center also provides parents with community and school resources to assist them in their adjustment to our community (e.g. Adult ESL classes, community services to support home visits, afterschool opportunities etc.).
Since September 2016 more than 380 students have been enrolled through the Welcome Center and preliminary feedback suggests that principals and staff much prefer this form of enrollment over that which occurred school by school.