Ebersole Educational Programs
---
HomeBuildingsOutdoor Education and RecreationHistoryNewsletter Forms
---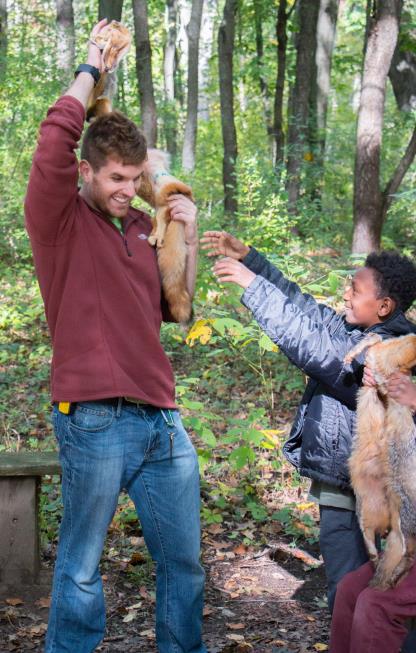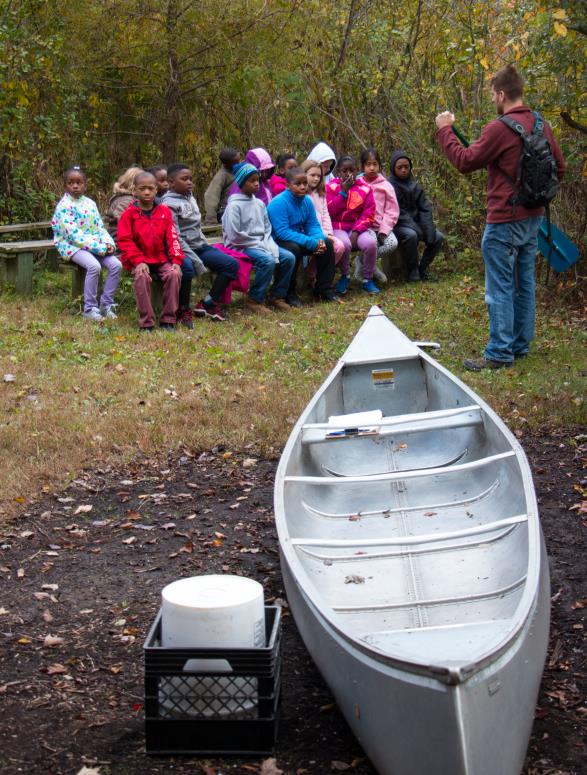 Environmental Education is a natural at the Ebersole Center. The Center's 158-acre site was chosen because of its unique natural features that provide opportunities for "hands-on, minds-on" science education. Students discover aquatic life by sampling muck from Jackson Lake, then looking for small creatures with a hand lens or microscope. They can stand among towering hardwood trees and feel the presence of nature in a forest that has reached the peak of succession. Learning touches their hearts as well as minds and makes science come alive.
Over thirty environmental education lesson plans are available to help teachers get the most out of their Ebersole experience. These lesson plans encourage student learning that directly translates into an understanding of essential science education goals established by the State of Michigan.
An entire learning experience can be built around environmental education program components, or groups can choose to combine group building or outdoor recreational experiences with environmental education. Environmental Education groups usually visit the center for 3 or 4 days.
Some of the most popular Environmental Education courses at Ebersole are: Water Ecology (Pond Study), Birding, Owl Study, Adaptations, Forest Ecology, and Ecosystem Study. Many other courses are available as well.
Water Ecology (Pond Study)
Students visit pristine Jackson Lake, search for and sample plants, animals and water. Specimens are then taken back to the classroom for further exploration using magnification. Discussion includes identification, classification, adaptations, and interdependence of organisms (food web), human impact on aquatics, water quality, water cycle, and watersheds.

Birding
Students study bird behavior and adaptations using bird study skins, binocular use and care, Bird habitat, field guide use and conclude with a hike on Ebersole trails looking for birds and bird signs.

Owl Study
Students study native Michigan owls and learn identification by sight, sound and habitat. Discussion includes owl's place in a food web, owl adaptations, human impact on owls and habitat destruction. Students also dissect owl pellets to encourage discussion about food webs, adaptations and predator-prey relationships. There is a small per pellet charge for owl pellets.

Adaptations
Students compare first-hand the different parts of plants and animals and how physical and behavioral characteristics help them survive in their habitat. Students are encourages to think independently as they observe these characteristics while exploring Ebersole Center ecosystems.

Forest Ecology
Using the Center's beech and maple hardwood forest, students will look at the different stages in a tree's life-cycle from seed to decomposition. By comparing these different stages first-hand students have a greater understanding of how trees fit into the food web and why other plants and animals are found in the forest.

Ecosystem Study
Students explore the different Ecosystems found at Ebersole Center and study what makes each ecosystem unique. Discussion includes movement of animals from one ecosystem to another in order to acquire all the animals needs, Interdependence of plants and animals, and interesting organism adaptations.