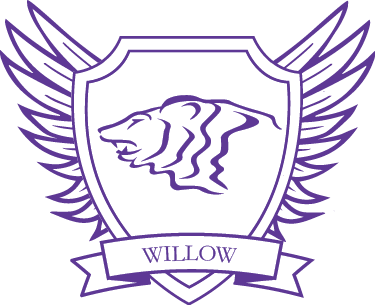 Welcome to
Willow Elementary
PreK - 3 Home of the Lions
---

Willow Elementary is aligned with the Lansing School District's Mission, Vision and Belief Statements for college and career readiness.
Willow has discontinued offering single-sex classes for the 2017-2018 school year, and that if it determines to offer single-sex classes or activities in the future, it will ensure that the classes or activities meet the legal requirements of the Title IX regulation at 34 C.F.R. § 106.34(b).
Willow Vision: Willow will promote a positive, progressive classroom learning community that embraces change and diversity where every student will acquire the skills needed to succeed in secondary education and in the workplace.
Willow Mission: It is the mission of Willow Elementary to provide educational excellence in a safe and nurturing environment for all students.
What Makes Willow Special?
Our school will provide specialized curricular opportunities, in addition to common core, for all students that will include:
Emphasis on building character and resiliency
Exposure to creativity
Emphasis on motivating students and their peers to succeed
Our school will also provide opportunities for Pre-k to 3rd Grade students to:
Explore their interests and talents with an eye on the Common Core
Interact with a range of role models
Build emotional I.Q.
Promote active learning
Academics
Early Childhood Special Education
Great Start Readiness Program
Emotionally Impaired Special Education Program
Willow Lions Pride!
After School Tutoring
Read to Succeed
Watch Dogs
AmeriCorp Reading Program
Gardening Clubs
Junior Achievement
Perfect Paws
Student of the Month
Family Fun Night
Volunteer Recognition Banquet
Title IX - Sex Discrimination/Gender Equity/Sexual Harassment
What is Title IX?
Title IX prohibits discrimination on the basis of sex in any District program, service or activity including, but not limited to: educational programs or activities, e.g., extracurricular activities, student services, academic counseling, discipline, classroom assignment, grading, athletics, transportation, etc.
Unlawful Discriminatory Practices Under Title IX
Sexual Harassment (unwelcome sexual advances, requests for sexual favors and other verbal or physical conduct of a sexual nature)
Sexual Misconduct/Violence (rape, sexual assault, sexual battery, sexual exploitation and other forms of non-consensual sexual activity)
Stalking (repeatedly following, harassing, threatening or intimidating including by telephone, mail, electronic communication or social media)
Retaliation (adverse academic or other actions against anyone reporting or participating in an investigation of Title IX allegations)

Sexual Misconduct Policy

Reporting Prohibited Behavior
Members of the school district community who believe that a Title IX violation may have occurred, should discuss their concerns and/or file a complaint with the District's Title IX coordinator.
Dr. Camela Diaz
Associate Superintendent for Student Learning
camela.diaz@lansingschools.net
(517) 755-2020
You may also report any form of sexual misconduct to the Public Safety Department:
Mr. Bruce Lankheet
Department of Public Safety Coordinator
bruce.lankheet@lansingschools.net
(517) 755-2030