Bilingual Services
---
Below are a list of services the Bilingual Department offers to the Lansing School District Families and Staff.
Language Instructional Educational Programs
The Lansing School District offers Language Instructional Educational Programs (LIEP) for English Learners at Cumberland, Sheridan Road, North, Gardner, and the three high schools. Programs provide services with highly qualified ESL teachers, Specialized Assistants/Bilingual Educators, SIOP trained content area teachers and referrals to available community services.
Every academic year, each school is assessed and ranked by the number of students speaking a given language. This data provides the framework for the creation of a Bilingual Assistant schedule where staff languages are paired with the greatest needs in each school. Bilingual Assistants are funded with supplemental funds which include: Title III LEP, Immigrant, Title I and Section 31a.
---
Bilingual Resource Center
The Dr. Eva L. Evans Welcome Center offers a Bilingual Resource Room where staff are free to browse and borrow resources to assist in the teaching of a variety of subjects and English language levels. Should a staff member wish to obtain his/her own copy of a resource, the Welcome Center will facilitate this purchase (provided funds are available).
After surveying district teachers and staff regarding resource needs, Title III funds were used to purchase:
Picture dictionaries and flash cards which can be used at the elementary level
Content area dictionaries for the secondary level
National Geographic resources to support

7-12th

grade levels
Resources to support learners for Entering, Emerging and Expanding language levels
Books for parents of early childhood students to read to their children in their own native languages (note: research has proven the positive effects of a parent retaining their native language with their children)
Specialized training is also offered on a one-to-one basis to help teachers learn what resources meet their needs best and how to utilize the resource in their practice. Staff are welcome at any time to drop on or make an appointment for consultation and training.
---
Bilingual Intake Office
In 2016, the Dr. Eva L. Evans Welcome Center and Bilingual Intake Office were created to provide a resource where the newly arrived could enroll, be tested for English proficiency, and be screened for stressors that are important to identify when helping children fleeing trauma and war. The Welcome Center also provides parents with community and school resources to assist them in their adjustment to our community (e.g. Adult ESL classes, community services to support home visits, afterschool opportunities etc.).
Since September 2016, more than 400 students have been enrolled through the Welcome Center and preliminary feedback suggests that principals and staff prefer this form of enrollment over that which occurred school by school.
---
Translation/Interpretation Services
The Bilingual Education Department places Bilingual Assistants in many of our schools to provide critical support to our English Learner population. However, when the need for language/cultural support exceeds the capacity and role the Bilingual Assistants can provide, the department contracts with Cultural Brokers to help meet these needs.
A cultural broker is a contracted member who speaks a highly specialized language and assists with interpretation and translation needs for the district. Cultural Brokers facilitate communication between parents, staff, and community agencies and can frequently be found supporting school services like parent teacher conferences, IEPs, school meetings and specialized interventions with at risk students.
The Bilingual Department's current pool of cultural brokers consists of 75 people speaking over 20 of the most frequently requested languages by the district.

Translation/Interpretation Request Form
---
Bilingual Homevisit
The Lansing School District Bilingual Education Department recognizes the hard work teachers and administrators do every day to reach out to our bilingual students and families. Sometimes, a visit from school personnel can help bridge the communication gap and bring needed support to parents and students.
For attendance issues, behavior issues, or other concerns that cannot be resolved via phone and you would like a Cultural Broker from the Bilingual Education Department to conduct a home visit to one of your students' families, please fill out the form below. For additional questions, please contact Trisha Dowell trisha.dowell@lansingschools.net.

Bilingual Homevisit Request Form
---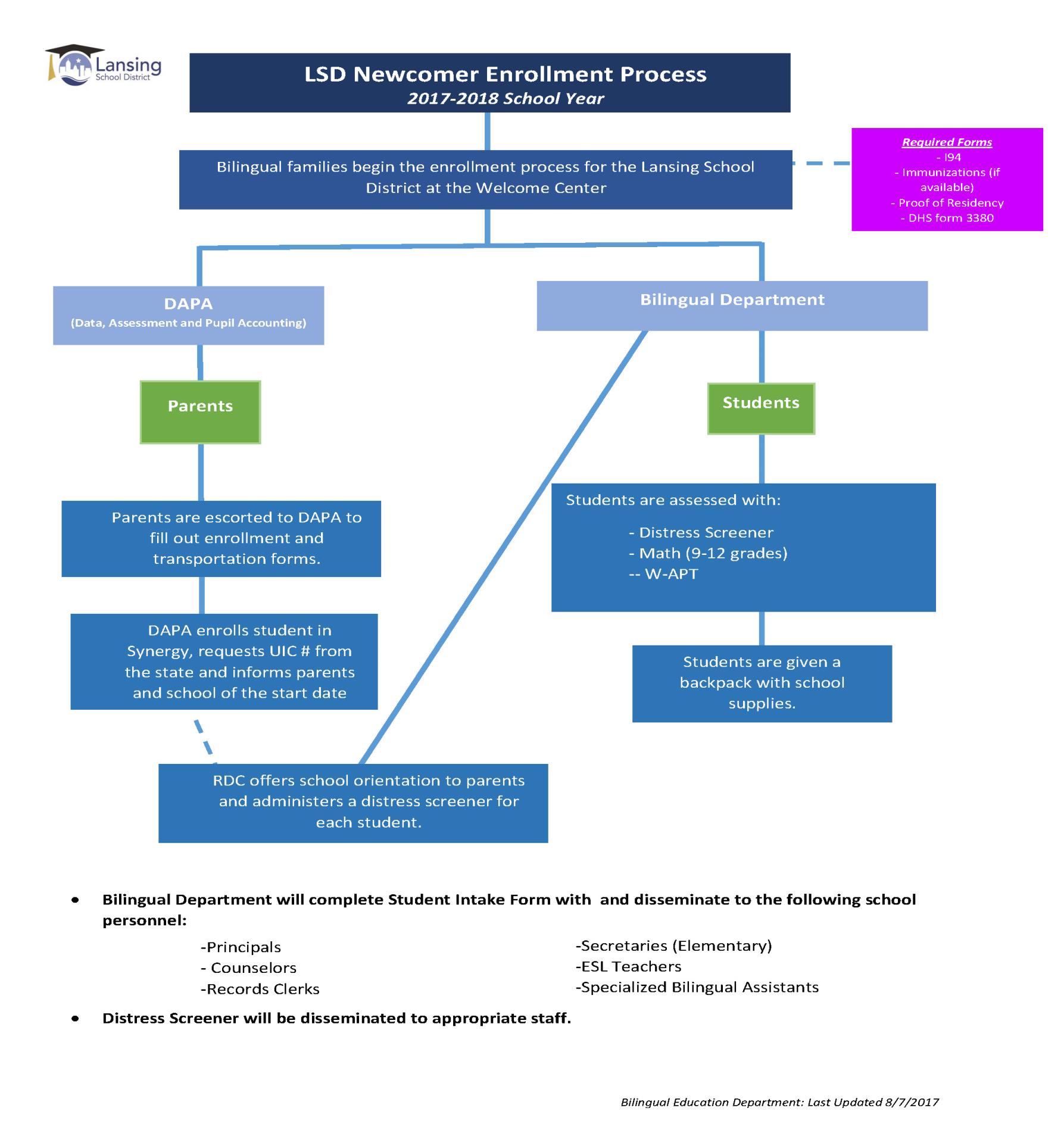 Professional Development Opportunities and Professional Associations
Please visit the PD Page for a comprehensive list of overview of ESL resources and opportunities.