Spotlights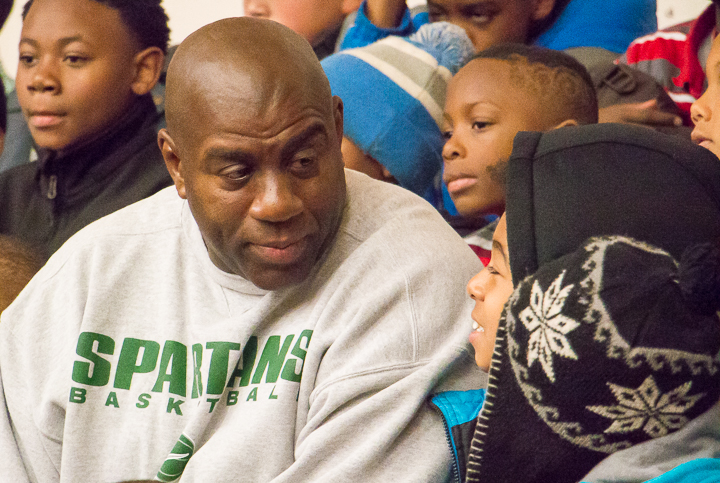 Magic Johnson Foundation Helps Lansing Families
Thank you to Earvin "Magic" Johnson, his foundation, the Michigan State men's basketball team and many community partners and volunteers for donating their time, Thanksgiving supplies to over 800 Lansing families and toys/gifts for over 200 Lansing kids!!!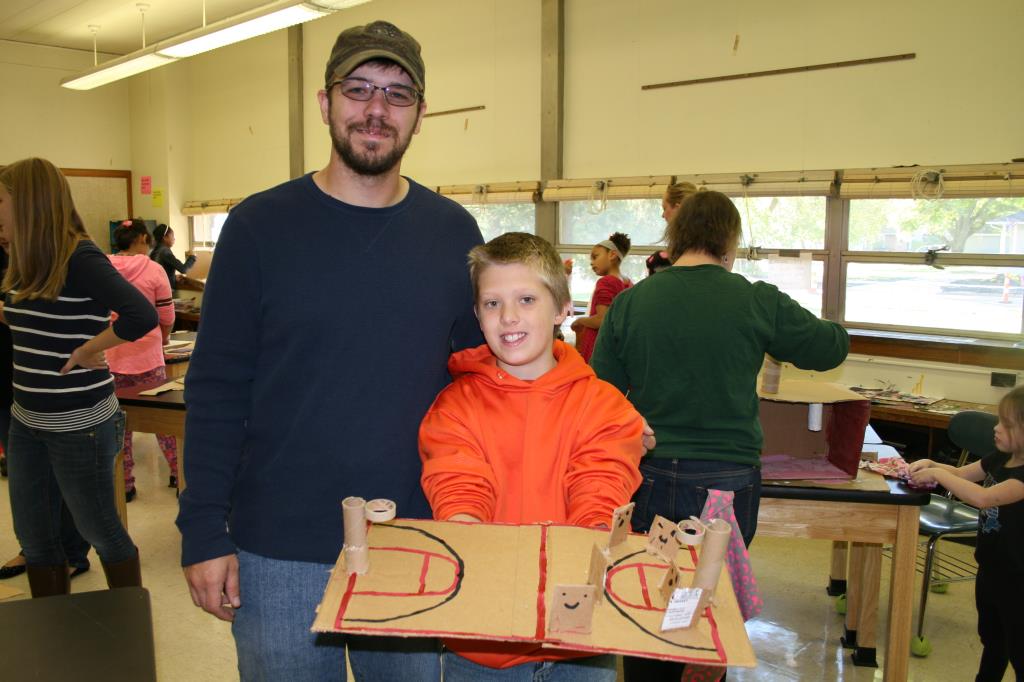 Mt. Hope Cardboard Challenge
Mt. Hope STEAM students participated in their 2nd annual Global Cardboard Challenge on Saturday, October 10, 2015. The Global Cardboard Challenge which is in its 4th year, is an annual event that was inspired by the short film, 'Caine's Arcade.' The event, which celebrates child creativity and the role communities can play in fostering it, allows children – and families – to build whatever their heart's desire out of cardboard, other recycled materials and imagination.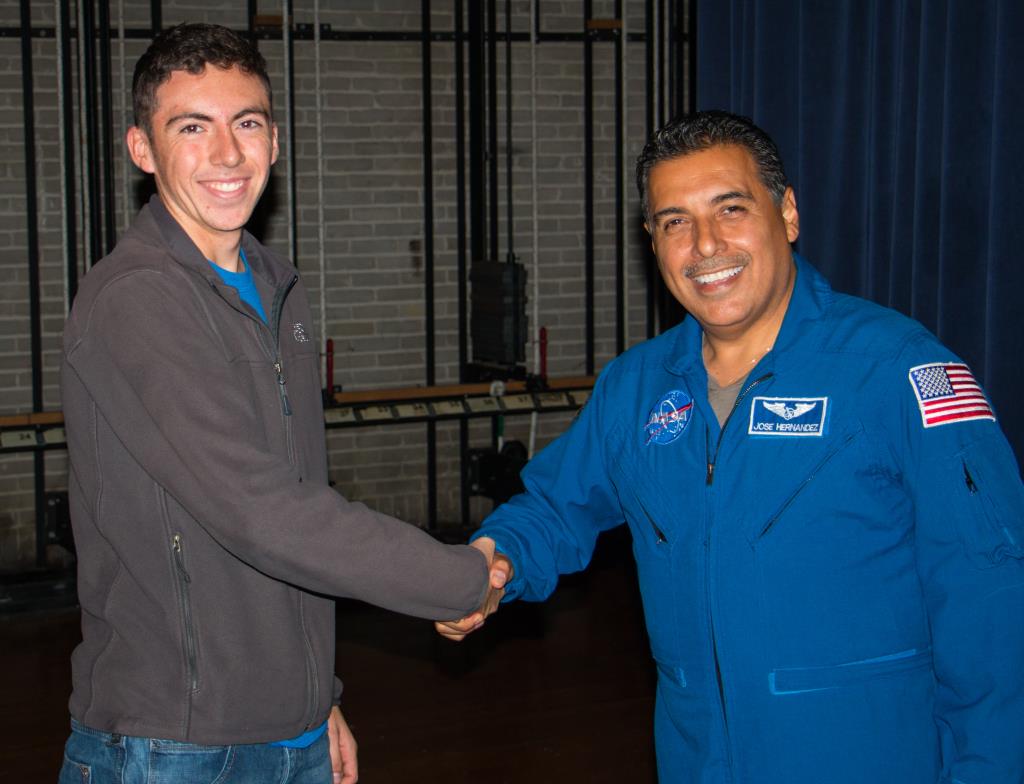 NASA Astronaut Visits Lansing High Schools
"What do you do when NASA rejects you 11 times over? Try yet again." That was the message that Jose M. Hernández Ph.D brought to Lansing students on Oct 7, 2015. In short – do not give up on your dreams. Dr. Hernández urged students at Eastern, Everett and Sexton to see what they want to do, observe people who are already doing what they want to do, and learn how to do what they are doing. Before officially joining NASA in 2001, Dr. Hernández became a pilot, scuba diver, and nuclear materials expert. To top off his impressive résumé, he is fluent in not only English and his native Spanish, but Russian as well. "I started as a migrant farm worker, and now I'm a doctor, an astronaut, and CEO of my own company. If I can do it, you can too!"
Interactive Communication
District Events

iCal Feed
Regular Board Meeting

Sep 1

6:30 PM to 8:30 PM

Partington Administration Building, 519 W. Kalamazoo Street

Board of Education Meetings

First Day of School for Students

Sep 6

District Calendar

Board Policy Committee

Sep 8

2:00 PM to 4:00 PM

Partington Administration Building, 519 W. Kalamazoo Street

Board of Education Meetings

Information Study Session

Sep 8

6:30 PM to 8:30 PM

Partington Administration Building, 519 W. Kalamazoo Street

Board of Education Meetings

Late Start Wednesday

Sep 14

District Calendar

Regular Board Meeting

Sep 15

6:30 PM to 8:30 PM

Partington Administration Building, 519 W. Kalamazoo Street

Board of Education Meetings

Late Start Wednesday

Sep 21

District Calendar
Calendar of Events
‹

August

2016

›

S
M
T
W
T
F
S
1
2

Aug 2

3:00 PM to 7:00 PM

Sports Physicals

Everett High School

All Medicaid and other health ins accepted but no other payment is collected.

Everett Calendar

All services are available regardless of insurance status or ability to pay. Call ahead to 517-702-3500 to pre-register and reserve your spot and receive a $10 gift card. If you are unable to come on August 2nd, call to schedule an appointment at 517-702-3500.

3
4

Aug 4

6:30 PM to 8:30 PM

Regular Board Meeting

Partington Administration Building, 519 W. Kalamazoo Street

Board of Education Meetings

5
6
7
8
9
10

Aug 10

9th Grade Orientation BRIDGE

Everett Calendar

11

Aug 11

12th Grade Orientation

Everett Calendar

2:00 PM to 4:30 PM

Board Policy Committee

Partington Administration Building, 519 W. Kalamazoo Street, Lansing, MI

Board of Education Meetings

6:30 PM to 8:30 PM

Information Study Session

Partington Administration Building, 519 W. Kalamazoo Street

Board of Education Meetings

12
13
14
15
16
17
18

Aug 18

6:30 PM to 8:30 PM

Regular Board Meeting

Partington Administration Building, 519 W. Kalamazoo Street

Board of Education Meetings

19
20
21
22
23
24
25

Aug 25

2:00 PM to 4:00 PM

Board Policy Committee

Partington Administration Building, 519 W. Kalamazoo Street

Board of Education Meetings

26
27
28
29
30
31

Aug 31

6:00 PM to 7:00 PM

Cumberland Open House

Cumberland School Calendar

6:00 PM to 7:00 PM

NEW TECH 7-11 PARENT MEETING

Everett Calendar

6:00 PM to 7:00 PM

Welcome Back Event

Kendon School

Kendon School Calendar
Subscribe

Superintendent's

Annual Report 2014-15
Superintendent's

Annual Report 2013-14

District Annual Education Report 2016