Synergy Student Information System
Synergy is the software that the district will use for student information, including, attendance, grades, discipline, scheduling, and other data that we need so we can provide our students and families with a caring and collaborative environment.
If you have questions or comments, please send an email to Synergyfaq@lansingschools.net


Synergy Key Features


Enrollment Guide


General Survey Guide


Mass Scheduling Training overview


TTT Overview


How to Take Attendance by Seating Chart


How to Take Attendance by List


How to Take Lunch Counts by Student


How to Take Lunch Count Values


Elementary Report Card Checklist


Elementary Report Card Matrix


GISD Gradebook for Secondary Teachers


Synergy Secondary Report Card Grades and Comments


TeacherVUE - How to Print Elementary Report Cards
Other links:

2016-2017 Grading Timeline
Kindergarten Art Lessons

Kindergarten Art Lesson 1


Kindergarten Art Lesson 2


Kindergarten Art Lesson 3


Kindergarten Art Lesson 4


Kindergarten Art Lesson 5


Kindergarten Art Lesson 6


Kindergarten Art Lesson 7


Kindergarten Art Lesson 8


Kindergarten Art Lesson 9


Kindergarten Art Lesson 10


Kindergarten Art Lesson 11


Kindergarten Art Lesson 12


Kindergarten Art Lesson 13


Kindergarten Art Lesson 14


Kindergarten Art Lesson 15


Kindergarten Art Lesson 16


Kindergarten Art Lesson 17


Kindergarten Art Lesson 18


Kindergarten Art Lesson 19


Kindergarten Art Lesson 20


Kindergarten Art Lesson 21


Kindergarten Art Lesson 22


Kindergarten Art Lesson 23


Kindergarten Art Lesson 24


Kindergarten Art Lesson 25


Kindergarten Art Lesson 26


Kindergarten Art Lesson 27


Kindergarten Art Lesson 28


Kindergarten Art Lesson 29


Kindergarten Art Lesson 30
Educational Resources
Libraries

The Library of Michigan


Michigan State Library


Michigan State Library Online Card Catalog


Search Multiple Catalogs


Bills of Rights Institute


Constitution Day.com


What is Constitution Day?


The Center for Civic Education


Preamble to the Constitution Lesson Plan


Simple Preamble Explanation


U.S. Constitution


School-House-Rock


Preamble to the Constitution---What is Good Government Anyway?Lesson Plan


The Articles of Confederation Comparison Chart


The Constitution Explained


Background to the passage of the Articles of Confederation


Constitution Day Resource List


Articles of Confederation Text


The Federalist Papers


Constitutional Law


The Founding Fathers


Foundations of Freedom DVD


Justice Learning Constitution Day Resources


I Signed the Constitution


America Reads the Constitution


Centuries of Citizenship: A Constitutional Timeline


Observing Constitution Day: The Constitution Game


Celebrate Constitution Day
Via Telnet:

Michigan State Library Online Card Catalog


Michigan State University Detroit College of Law (login is 'catalog')


Listing of Other Telnet Based Online Card Catalogs
Other Links:

Pacing Guide Feedback Form
Launch into Teaching
The LIT (Launch Into Teaching) website provides a framework for helping novices off to a strong start in their teaching career. This "strong start" involves an emphasis on school personnel working together to help a beginning teacher succeed. Within this model, we imagine beginning teachers deeply engaged in their work with the guidance of a mentor teacher
learning together regarding critical problems of teaching practice;
receiving coaching to develop greater skill and confidence;
practicing professional habits of mind related to inquiry into practice, content, and student learning; and
participating with other beginning teachers and their mentors in a larger community of professional learning.
Within this model the principal provides effective leadership for implementing a strong induction program in the school, understands the needs of beginning teachers and mentor teachers, and creates a school culture that supports collaborative professional learning.
As a result, every beginning teacher feels confident about meeting the challenges of the first years of teaching. Mentor teachers are renewed by their own learning and by their sense of making a contribution to other teachers and to the teaching profession. Principals are satisfied that beginning teachers are receiving effective support for transition to the teaching profession and that students of beginning teachers have strong opportunities for learning.
All these educators have tools and resources easily accessible for these purposes through ASSIST, which supports them in working together in a professional learning community where collaboration becomes the norm of effective educational practice.
The ASSIST project is supported by a partnership with Michigan State University and the Michigan State Board of Education through funding provided by the U.S. Department of Education.
Notes regarding the new phone system
Topics included are: Caller ID, 911 calling, retrieving voicemail, staff and site directories
Please take the time to read and understand the points listed below. If you have any questions you can call the Technology Department at 755-2850.
Caller ID for outgoing calls – Each unique phone number that can be recognized by 911 must be registered with the 911 system. Because the combined cost of registering all District numbers is high, we are registering only the main numbers for each school or department. As a result, any calls made from a school, such as one made from a teacher's phone, will have the main number of the school shown on the recipient's caller id. Please be aware of this change as we have many parents that call back numbers from their caller-id logs. If you can leave even a brief message on their answering service it may help prevent frustration about who attempted to call them.
There have been some concerns about how to make 911 calls. In our training for using the new phone system, a "9" is required to get to an outside line. The traditional way to call 911 would be to dial 9 then 911. Because the moments leading up to the placement of a 911 call can be chaotic, we have also programmed the phone system to recognize the calling of 911 without the 9 prefix as a valid 911 call also. This means that both 9-911 and 911 will place a call to 911. However, we have seen some staff accidentally call 911 when trying to place a regular long distance call (9-1-area code-phone number). If you make one of these calls accidentally, DO NOT HANG UP! Wait for the phone to be answered and explain that the call was made by mistake. This will save the district from having to check the logs to find out that you made the call, and your potential embarrassment. Any costs charged to the district for emergency crews to respond to a 911 hang-up call will be charged back to the offending buildings.
If you are making a real 911 call, please also notify your main office. Calls made to 911 are both logged and displayed in multiple offices of the administration complex, who in turn contact the school to find out the nature of the emergency.
Retrieving Voice Mail from outside of the district or on a different district phone can be done in one of two ways. (517)755-1111 is a phone number programmed to go directly to the Voice Mail system. When using it, you will be prompted for your extension number and then your password. Another way to retrieve your voice mail would be to dial your own extension, and when your personnal greeting starts type *7 (asterisk then 7), then enter your password when prompted.
Most Lansing School District buildings are now on the new system. The exceptions at this time are Bingham, Cumberland, Grand River, and Post Oak Elementary Schools, the Ebersole Environmental Center, and the Service Center / Distribution and Transportation complex. The remaining elementary schools are scheduled to be converted by the middle of May, and the other sites by the end of June. Guinnisonville will not be converted as it is closing this summer. If you are calling into or out of any of these sites you will need to dial all 7 digits. If you are not calling into or out of any of these sites, please use 4-digit dialing to help reduce costs.
As each site is converted, the Technology Department is maintaining lists of new phone numbers. Main phone numbers for schools are updated and made available to the general public on the Lansing School District's Web Site Home Page at http://www.lansingschools.net in the News area. A separate and more comprehensive list containing the DID (direct-inward-dial) numbers for all staff is available internally within the district at http://10.189.16.107/intranet/phone_directory/
Office 365 for Staff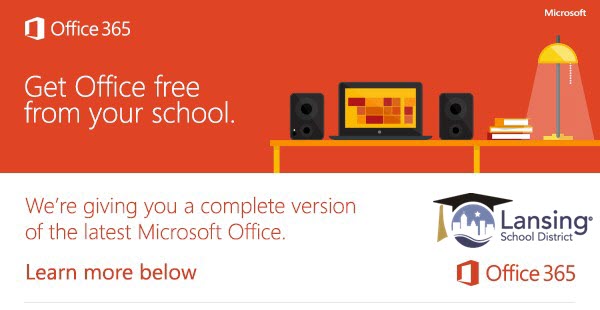 Teachers in the Lansing School District get Office 365 for free, across their personal devices.
Because our district has Office 365, teachers and students now have access to the latest Office applications, across all of their personal devices. Install at Office.com/Teachers
Give your students Office for free at Office for Student
Word, Excel, PowerPoint, OneNote and Outlook included.

Get Office 365 For Teachers