Meet Our Team


Being the Director of the Ebersole Center is Mr. Ben's dream job because it combines two of his favorite things … being outdoors and working with kids. Mr. Ben began his career as a high school history teacher in West Michigan and has been fortunate enough to be able to teach in both the United States and abroad. Mr. Ben holds a Bachelor's degree in Education from Grand Valley State University, a Master's Degree in Curriculum and Teaching, and an Education Specialist Degree in Administration and Policy from Michigan State University. Mr. Ben is a lifelong outdoorsman and learner, who enjoys reading, spending time with his family, and traveling. Mr. Ben married his high school sweetheart and they have two wonderful kids - William and Izabelle.
---

Although she grew up in Chicago, Ms. Amanda always wanted to be in nature. Whether it was the grass of the soccer field or the mountains of Colorado on a family camping trip, Ms. Amanda has always felt right at home outside. So that's where she lived for four years as she was trained to lead and led wilderness expeditions in North Carolina, Wyoming, and Colorado. Her greatest joy is seeing lives changed in the great outdoors and she is so thankful that she gets to continue to do that work at the Ebersole Center. Ms. Amanda enjoys seeing students step out of their comfort zone, learn more about who they are and the world that surrounds them. Ms. Amanda is married to her best friend, Andrew, and they have two awesome pups, Theo and Harper. Their family loves to run and fish and hike and basically anything that involves being outside. Ms. Amanda is always on the hunt for the best chocolate frosted cake donut.
---

Snakes, owls, alligators, and more, Ms. Jane has worked with many critters and her excitement for nature is rooted in animals, scaly or furry. Ms. Jane holds a bachelor's degree in Zoology from Northern Michigan University and her career began by working at zoo's from the Midwest to New Orleans, Louisiana. She and her husband, Christian, are excited to be back in Michigan where there is plenty of opportunity to get outside! They spend most of their free time with their pets and family, enjoying Michigan's lakes, and traveling. At Ebersole, Ms. Jane hopes to inspire students through conservation, environmental education, and just having fun outdoors. She knows that when guests get to have a unique experience at Ebersole, they are able to gain knowledge and feel connected to nature.
---

After 25 years of nursing, Nan retired in May 2017. After 7 months of retirement she was ready for another adventure, so when Camp Ebersole knocked on her door - she was ready! Nurse Nan has always worked with kids – she served as the Head Nurse of the Pediatric Clinic at Blodgett Hospital (in Grand Rapids) and as a nurse in long-term care or residential facilities for kids; she feels right at home at camp. Nurse Nan's favorite color is blue and when she was a kid her dream was to be a nun. Nan has the best and most contagious laugh! On her 50th birthday she fulfilled her lifelong dream of running the 5th/3rd Riverbank Race and going to Hawaii. No one loves working at camp more then Nurse Nan. Nan has four awesome grandchildren.
---

Food is such an important part of the Ebersole experience, and Ms. Melinda takes care in making sure that all Ebersole guests have tasty and nutritious meals. Ms. Melinda was born and raised in West Michigan (Kalamazoo to be specific) and has been part of the Ebersole family since 2015. As our Kitchen Manager, Ms. Melinda is responsible for making sure that everyone at the Ebersole Center is well fed - no small task given the fact that we serve thousands of guests each year. Ms. Melinda loves "how the Ebersole Center makes you a better person" and she enjoys having a positive influence in the lives of Lansing students. In her free time, Ms. Melinda loves baking and spending time with her family.
---

Born and raised in Mid-Michigan, Mr. Clay takes tremendous pride in providing students and staff with a beautiful, well-maintained, and safe place to learn and grow at the Ebersole Center. Mr. Clay believes in the mission of the Ebersole Center and is so happy to be serving the Lansing community through his work. As our Head of Grounds and Maintenance, Mr. Clay is responsible for making sure that all of our facilities and grounds are in great shape - no small task given our 158-acre campus. Mr. Clay really loves trying new foods, especially while traveling. In his free time, Mr. Clay loves spending time with his wife, children, and friends. He also enjoys riding his motorcycle.
---

One of the newest members of the Ebersole family is Mr. Mike. Mr. Mike was born and raised in Iron Mountain, Michigan. Iron Mountain is located on the western end of Michigan's Upper Peninsula approximately 450 miles from the Ebersole Center. Did you know it takes over seven hours to drive to Iron Mountain! Mr. Mike takes great care in providing students and staff with a beautiful, well-maintained, and safe place to learn and grow at the Ebersole Center. Mr. Mike, like his friend Mr. Clay, is also responsible for making sure that all of our facilities and grounds are in great shape. Mr. Mike enjoys spending time with his family and friends camping and hunting. He especially enjoys his time with his grandchildren.
---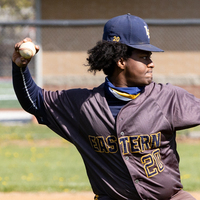 11,500 Enrollment by 2025
85% Graduation Rate by 2025