One of the highlights of camp is when mail is passed out. Receiving mail is an important part of the camp experience. Nowadays, hearing from the "outside world" takes on a whole new significance for kids who are used to being constantly connected to their family and friends. While we believe that trading in cell phones and social media for actual in-person community is one of the benefits of being at camp, we know that you and your campers want to stay connected. So here are some great ways to connect.
Email a Camper
---
Yes, you can absolutely email a camper. Just fill out the form below. We print, fold, and distribute them with the traditional mail at meals. Just to be safe, send your last email the evening before your camper is scheduled to return home. Also, please note that campers will not be able to email you back.
---
---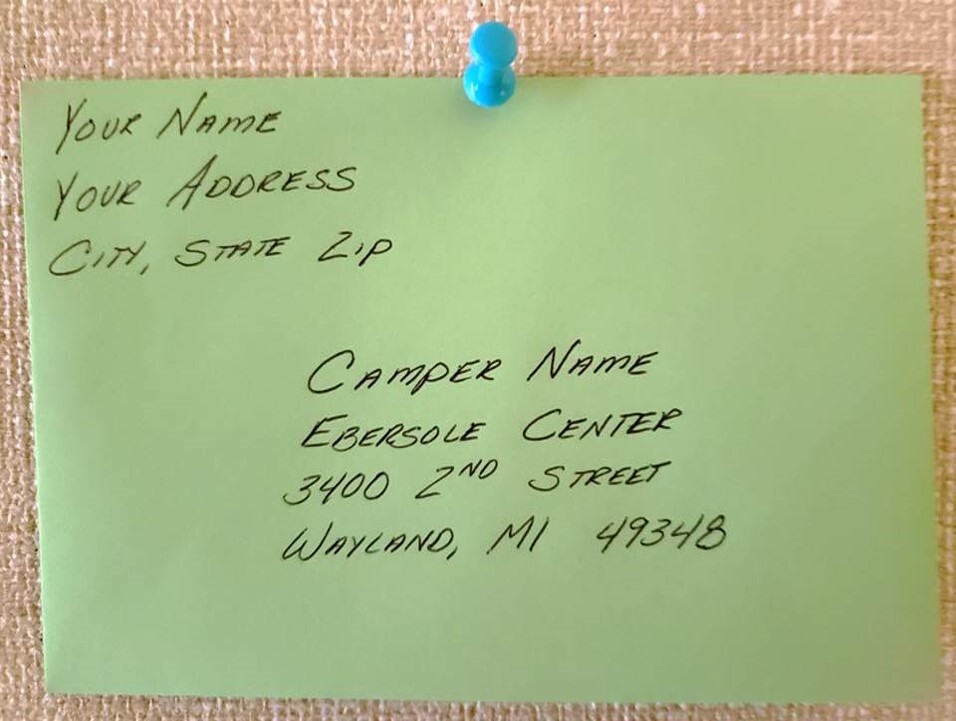 Send a Letter or Card
---
How often today do kids get actual mail? Sending letters and cards is a novelty these days, and a great way to make your child's camp experience that much more memorable. For your reference, we have included an example of how to address camper mail above. We would recommend mailing letters or cards at least three days in advance. Note that in most cases that means prior to campers actually leaving home.
How much mail should I send?
---
Note that some parents do not send any mail. Others send a letter or two during their camper's entire stay, while others send multiple piece of mail each day. It is important to keep in mind that some campers do not get much mail, so you may want to hold off on sending your camper stacks of mail each day. If you are really excited about sending lots of mail, you could always send letters or cards to the whole group.
What should I say in my mail?
---
Remember that mail from home can remind campers that they are still connected to their family and friends even while away at camp. So tell your camper what you have been up to, remind him/her to wear sunscreen, and tell him/her you cannot wait to hear all about the fun they have been having.
What should I NOT say in my mail?
---
It is probably best not to include news that will make your camper wish (s)he was at home. Upsetting news should wait until you can tell your camper in person. If your camper is homesick, you may be tempted to ask how (s)he is doing and remind them that (s)he can come home early if (s)he wants. That is a sure-fire way to spark your camper's homesickness, even if (s)he was feeling fine all day! Instead, focus on all the fun your camper is having at camp. Tell them that you cannot wait to hear all about it, and remind them how proud you are that (s)he is learning to be independent! Focusing on the positive goes a long way towards alleviating homesickness.
What happens if mail arrives after my camper leaves?
---
Mail that arrives after the camper leaves will be forwarded to the address provided on the mail itself or, in the case of email messages, a response will be sent to the sender of the email and the original will be discarded. When you are sending mail, remember that for letters or cards to get from the Lansing area to the Ebersole Center it may take upwards of three business days. To be safe, mail letters early and we can hold them until the camper arrives.
What other tips and tricks should I be aware of?
---
Here are a few suggestions for making the most of camper (e)mail:
To make sure campers get one letter a day, some parents send all the mail earlier in the week, but note on the envelope what day they want their camper to receive it. There are no guarantees, but our staff will do their best to follow those instructions.
Some parents include fun things like news articles, word searches, and coloring pages in letters to their campers.
If other family members are writing notes, remind them that younger campers (and some older ones) cannot read cursive writing … our staff can help if needed.
Send a letter from your camper's pet - these are entertaining for campers and staff alike!