Our Staff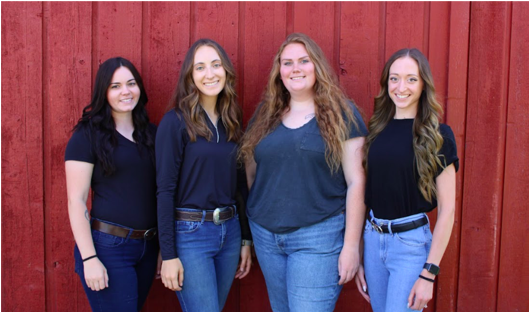 Lena Edson
Program Manager
Lena has a bachelor's degree in Human Physiology with a minor in bioethics from Michigan State University. While at MSU, Lena interned at ECL and got hooked on therapeutic horseback riding and the programming at ECL. Lena has been riding since the age of seven and has dabbled in many different disciplines, including western, english, hunter/jumper, speed, and natural horsemanship. When Lena is not at the barn, she will be spending time outdoors with her husband and Chihuahua Paco. Paco is small, but has learned to be a great farm dog!
Charlotte Zielke
Arena and Programming Coordinator
Charlotte has a bachelor's degree in psychology with a minor in human behavior and social services from Michigan State University. Also, while at MSU, Charlotte was on the MSU stock seat equestrian team for all four years. Previously Charlotte was on her school's middle and high school equestrian teams. Charlotte has a very diverse background in showing and has ridden approximately 75 horses over the 12 years she has been riding. When Charlotte is not at the barn, she is taking pictures of her adorable dog, Crew!
Taylor Jones
Barn and Herd Coordinator
Taylor began riding horses at the age of five and has not looked back since. She has several years of experience managing horse farms around mid-Michigan and spent a year working as a Registered ABA Behavior Technician. Taylor is pursuing a degree in Applied Behavior Analysis, intending to link ABA principles and equine-assisted therapies to help a large array of students. At home, Taylor has two dogs, Paisley and Maple, who enjoy the farm as much as she does! You may even see them around ECL periodically. A fun fact about Taylor is that she can play just about any song she hears on the piano without reading notes!
Audra Kelly
Social Media Coordinator/Instructor Assistant
Audra has an extensive background and bachelor's in exercise science with a focus on special populations, corrective exercise, and functional movement. She hopes to incorporate her skills to integrate her exercise programming into our current curriculum to help our students increase their strength, balance, and coordination. In addition, Audra loves spending time with her two Great Danes - Chicken Nugget and Pork and Beans, roller skating at skate parks, and creating!