Therapeutic Riding Lessons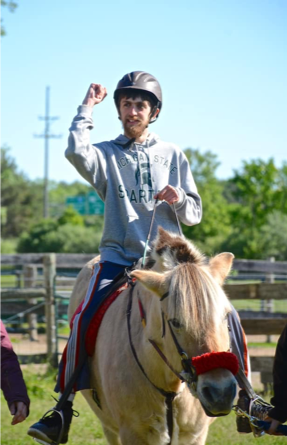 We proudly serve people of all abilities, offering riding lessons to anyone five years of age or older. Our instructors work with individuals with skills ranging from beginner to advanced and can also provide therapeutic lessons! Our students can ride year-round in the safety of a heated indoor arena as well as enjoy our beautiful wooded trails in good weather.
Therapeutic riding helps students with disabilities and, in some cases, assists in rehabilitation. Riding is a unique and enjoyable way to improve muscle tone, balance, fine and gross motor skills, responsibility, and confidence. Students' needs are assessed before they are scheduled for classes. Instructors create lesson plans based on the initial assessment and update them as students progress. Every lesson is tailored to the student's needs and goals.
Some students benefit from the horse's movement, while others gain motor and cognitive benefits from engaging in specific lesson activities. Lesson activities may include games on horseback, steering obstacle courses, verbal exercises, and muscle strengthening exercises.
---
Thinking therapeutic riding lessons are for you or someone else? To ensure this is a good fit for everyone involved and to get each client scheduled in a space that best works for them, the Equine Center for Learning has a five-step intake process.
1. GIVE US A CALL AT 517-755-2175 OR SEND US AN EMAIL
We'll chat with you about the specifics of the potential student/situation and figure out if there is a fit in our program that would be best.

2. FILL OUT CLIENT PAPERWORK
Client paperwork MUST BE COMPLETED PRIOR TO YOUR ASSESSMENT. Participation packets can be found down below and returned to email ecl@lansingschools.net

3. SCHEDULE AN ASSESSMENT
Assessments are scheduled and are conducted by our instructors. These appointments help us determine how we can make your experience at the Equine Center for Learning most beneficial and are designed to give everyone a good idea of what to expect on their first day at the barn. We introduce you to the facility, the program process; determine which horse is appropriate and what level of support is needed.

4. ATTEND YOUR ASSESSMENT
Please let us know if you are unable to attend your scheduled assessment with our instructors.

5. SIGN UP FOR A RIDING SESSION
We will work with you to determine the best fit available on our schedule, for your needs and walk you through the sign up process. This often happens prior to leaving your assessment. We will do our best to find something that works!
---
Please fill out the participation packet and email it back to ecl@lansingschools.net. Have further questions on lessons? Give us a call at 517-755-2175, and we will chat with you about the specifics of the potential student/situation and figure out if there is a fit in our program that would be best.

Therapeutic Riding Participation Packet