STAR Grant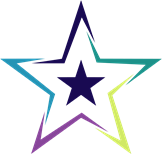 What is the STAR Grant?
STAR, School Transformation Accelerates Results, is a five (5) year U.S. Department of Education School Climate Transformation Grant program that will improve school implementation of Culturally Responsive Positive Behavioral Interventions and Supports (CRPBIS) and introduce evidence-based practices that enhance the multi-tiered system of support with social and emotional learning, crisis intervention, outdoor education life skills development, restorative practices, therapeutic counseling, equine therapy, opioid, drug, and alcohol abuse prevention services, procedures and professional development.
STAR Grant goal
To improve school climate in underserved, high needs Lansing District schools.
STAR Grant Objectives:
Objective 1: Strengthen multi-tiered system of support to improve school climate and student achievement.
Objective 2: Prevent incidences of aggression, bullying, violence, and disruptive behavior in schools.
Objective 3: Increase capacity of supports for highest needs youth most vulnerable to risk factors.
Objective 4: Reduce incidences of alcohol/drug abuse in participating schools.
What are the benefits of the STAR Grant?
Implementation of STAR will foster school safety, improve equity in learning, reduce disciplinary actions, support improved academic achievement, enhance learning environments for all students, strengthen school/family/community supports for vulnerable youth and improve and sustain improved school climate to yield positive student outcomes and success.
What services does the STAR Grant offer?
STAR Framework include four layers of support
Universal

Targeted

Individual

Professional Development
What initiatives does the STAR Grant support?

Mi Model for Health
Early prevention and intervention training
Restorative practices training
Social and Emotional Learning (SEL)
Equine therapy
Outdoor education life skills training
Expanded counseling capacity
Parent education
Parent University
Substance abuse training
Cognitive Behavioral Therapy (CBT) training
Aggressive Replacement Therapy (ART) training
School climate leadership micro-credentialing
Professional development (emphasis on Culturally Responsive Practices, SEL, & equity
Culturally Responsive Positive Behavioral Interventions and Supports (CRPBIS)
CRPBIS Target Dates 2020-2021 School Year
For progression of CRPBIS implementation at the school level, refer to "CRPBIS Implementation Plan" documents.
Tiered Fidelity Inventory (TFI) Due Dates
Friday, October 9, 2020
Friday, February 5, 2021
Friday, May 28, 2021
Site Visit Windows
September 28 - October 9, 2020
January 18 - February 5, 2021
April 19 - May 28, 2021

Social Emotional Learning (SEL)
Social and Emotional Learning (SEL) is an integral part of education and human development. SEL is the process through which all young people and adults acquire and apply the knowledge, skills, and attitudes to develop healthy identities, manage emotions, and achieve personal and collective relationships, and make responsible and caring decisions.
SEL advances educational equity and excellence through authentic school-family-community partnerships to establish learning environments and experiences that feature trusting and collaborative relationships, rigorous and meaningful curriculum and instruction, and ongoing evaluation. SEL can address various forms of inequity and empower young people and adults to co-create thriving schools and contribute to safe, healthy, and just communities.
Source:

CASEL.org
The Lansing School District is committed to teaching and reinforcing SEL concepts to help students experience academic success. In the coming months, teachers will be offered professional development opportunities on integrating SEL into core curriculum...
Integrating SEL with instructional practices and academic content has become a priority for improving problem solving, elevating student voice, promote academic mindsets, and improving social engagement and communication.
To learn more about integrating SEL into curriculum, refer to the resources below:

Connecting Social and Emotional Learning to Michigan's School Improvement Framework


MDE Early Childhood - Grade 12 SEL Competencies & Indicators


SEL Trends: Integrating with Academics


Morning Meetings: Building Community Classrooms


Integrating SEL and the Common Core State Standards for Mathematics
The promise of social and emotional development as a lever for increasing educational equity rests on the capacity of educators to understand that all learning is social and emotional and all learning is mediated by relationships that sit in a sociopolitical, racialized context – for all children, not just those who are black and brown. Social emotional learning offers the possibility of acknowledging, addressing, and healing from the ways we have all been impacted by racism and systemic oppression and to create inclusive, libratory learning environments in which students of color and students living in poverty experience a sense of belonging, agency to shape the content and process of their learning, and thrive. This potential will only be realized if we intentionally prioritize educational equity and belonging as a primary goal of social-emotional learning and strategically apply what we know from research on the effects of race and racism, the relationship between culture and learning, and the neuroscience of healthy brain development.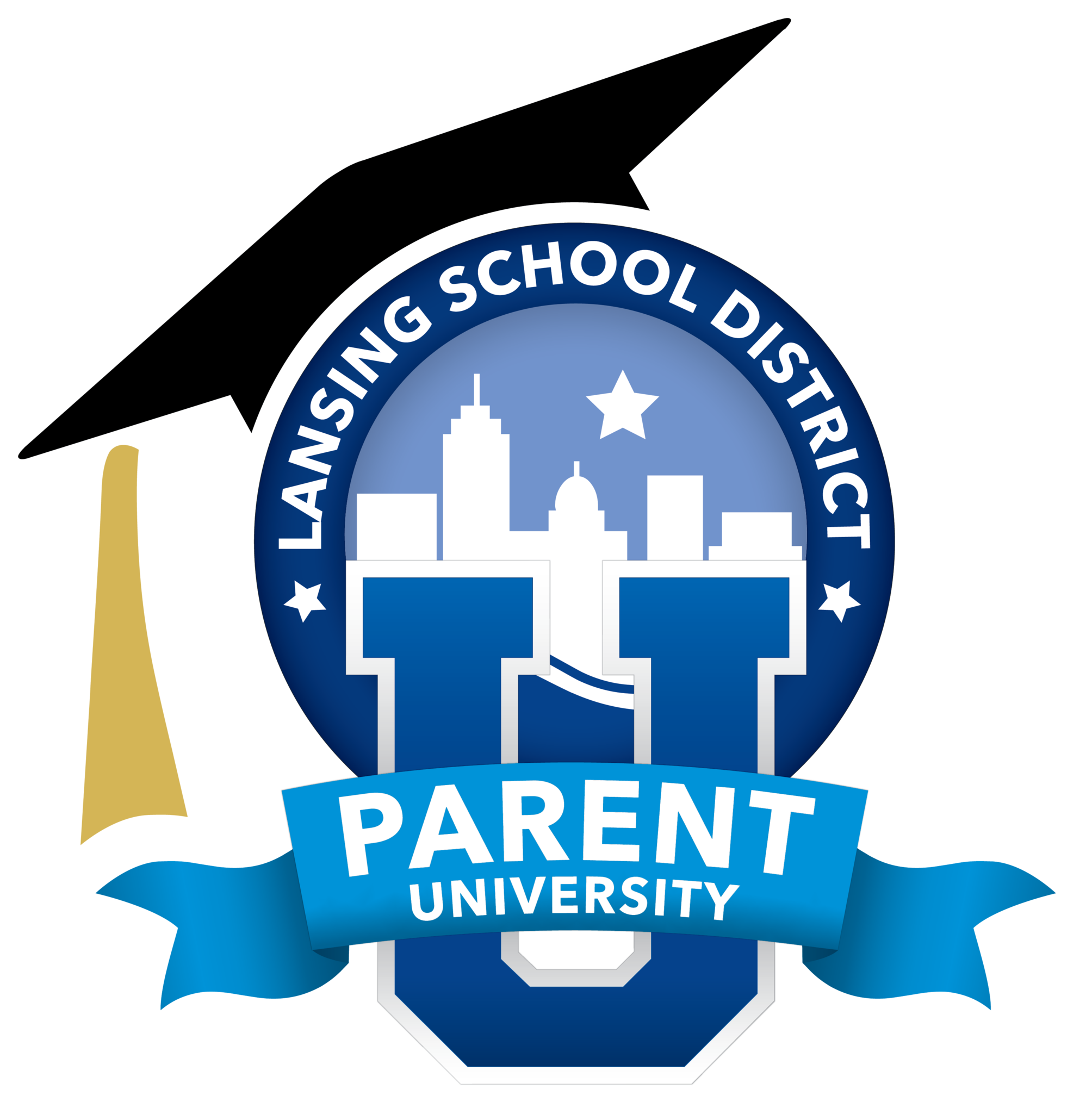 Parent University is a program designed to create a positive culture and predictable climate by collaborating with parents and providing parents personal enrichment courses that enhances effective interaction, strategies for how promote social, emotional and academic achievement, and connects parents to community resources. Parent University will offer a number of classes in either a face to face or screen to screen format, with opportunities to learn strategies and techniques to assist with enhancing the relationship between you and your child, gain access to a large range of community resources, ask questions of the facilitators, establish relationships, and have a voice in decisions regarding your child's social, emotional, and academic success. As parents, we see you as key stakeholders and recognize the need to remove any barriers that may potentially impact your ability to provide a solid foundation for the future of your child. We will host two parenting classes each month beginning in August from 5-6:30 on select Tuesday nights during the first semester of school, and Wednesday nights beginning in January 2021.
Participants who successfully complete at least 10 classes through our Parent University will be invited to an end of the year Celebration of Completion in June to recognize their partnership with the Lansing School District. The ultimate goal of our Parent University is to work collaboratively with parents in a safe, supportive, and non-judgmental environment to establish the best possible outcomes for our students while strengthening the relationships between parents, students, and school staff. Visit our Parent University page for more information.
Connect with Kids is a custom evidenced based Social Emotional Learning digital platform, with more than 6,000 hours of video featuring real kids and teens sharing their true stories, along with expert advice and the latest research. Our print resources include family viewing guides, lesson plans, and educational curricula and address today's most important parent and teen topics.
Please visit the Connect with Kids website.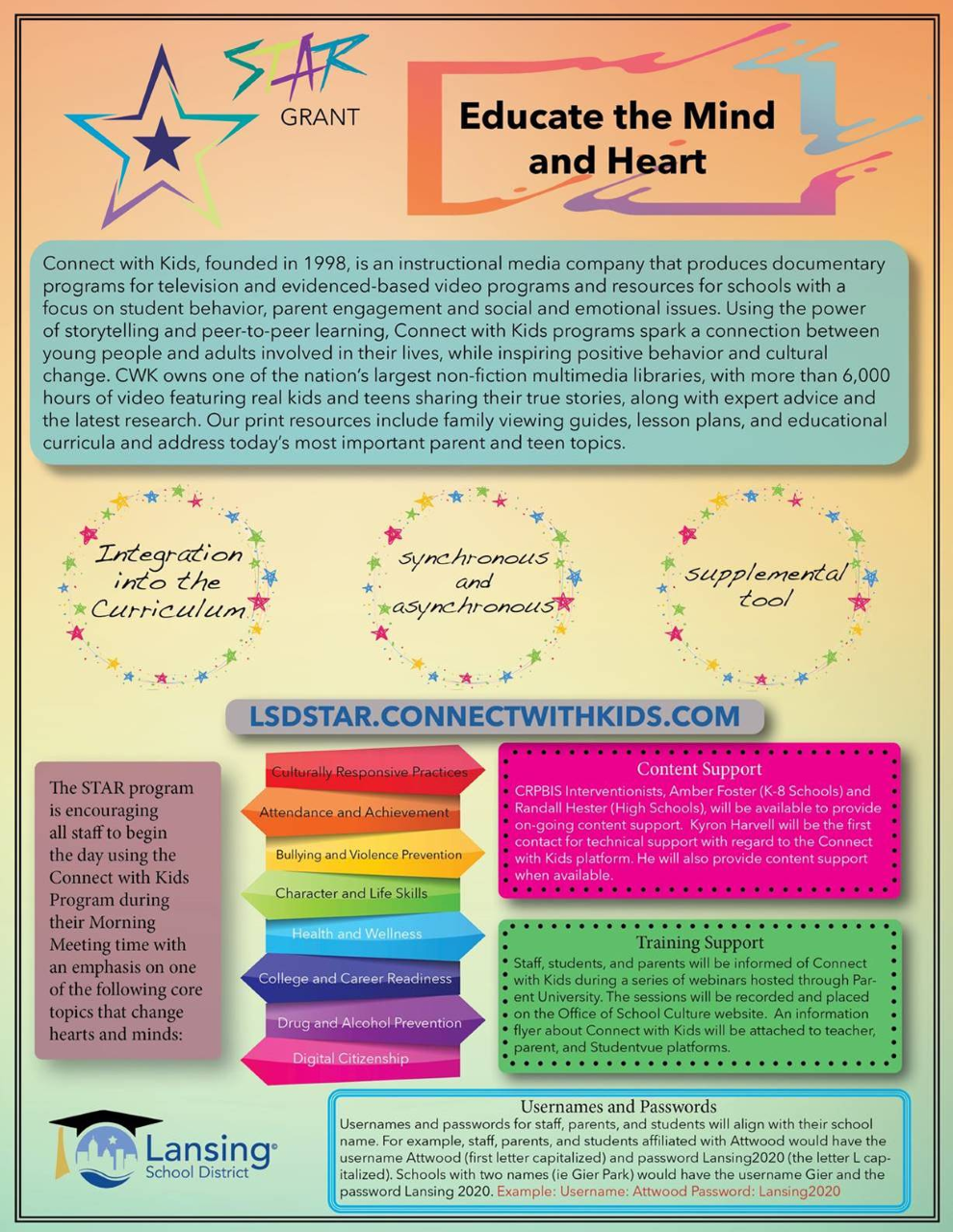 Summer Expert Series - More information coming soon!
Please check out the Office of School Culture's Professional Development page here for recordings of previous professional development opportunities.