Native American Program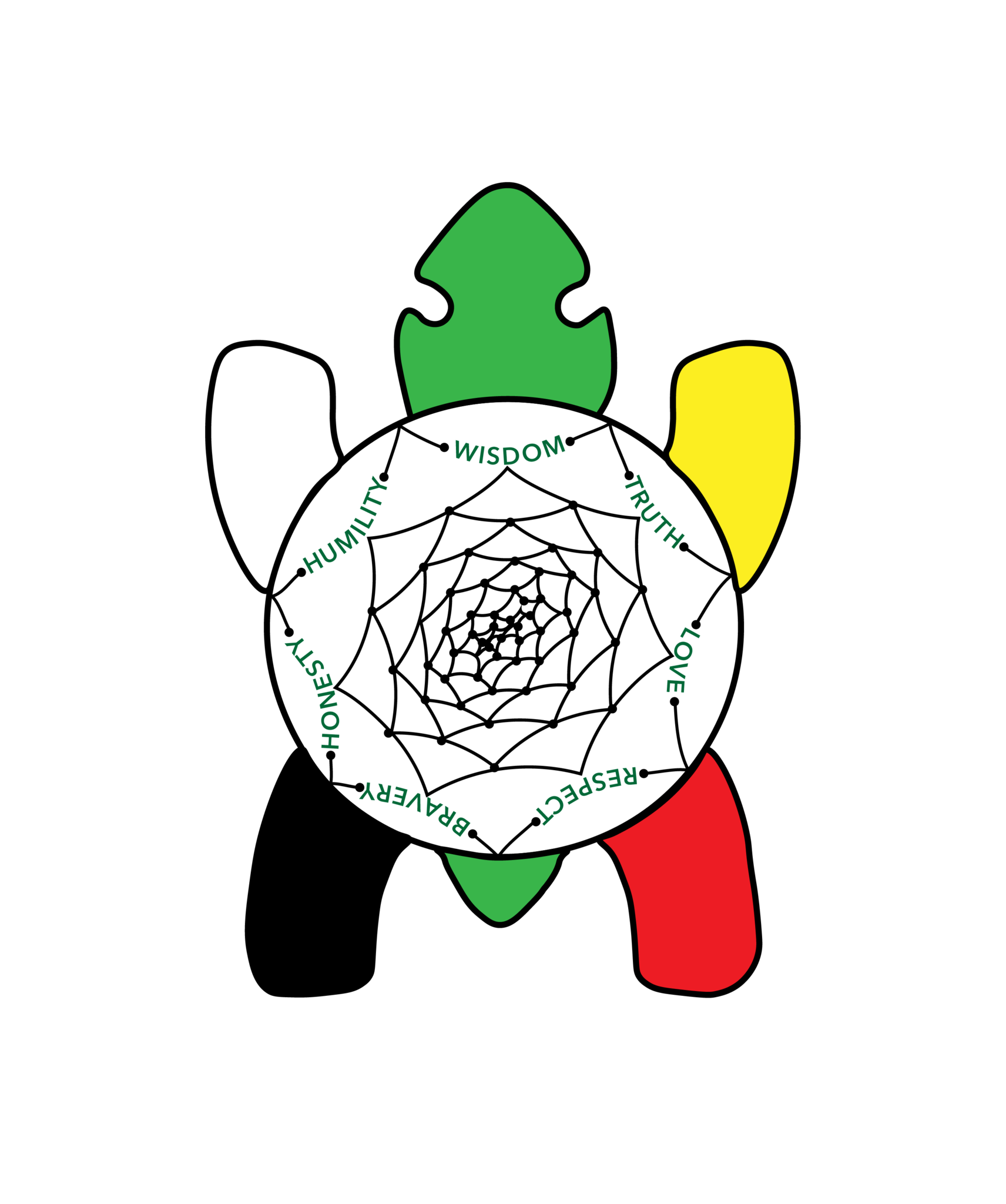 The LSD Native American program originated in 1972 to identify and support the unique cultural and academic needs of Native American students.
The Lansing School District has approximately 350 students that identify as Native American. While a majority represent the Anishinaabe people of Michigan, many of our students are First Nations from Canada. We also have students from tribes outside of the Lansing area: the Apache, Mohawk, Cherokee, Navajo, and Creek.
Community Advocacy​
Community Education & Partnerships​
School Visits​
Summer Camp​
Language, Culture, Crafts, Cooking & Academics​
Language Classes​
The Native American Education Program is Excited to share about their upcoming Language Classes. Dates TBA - pending grant approval.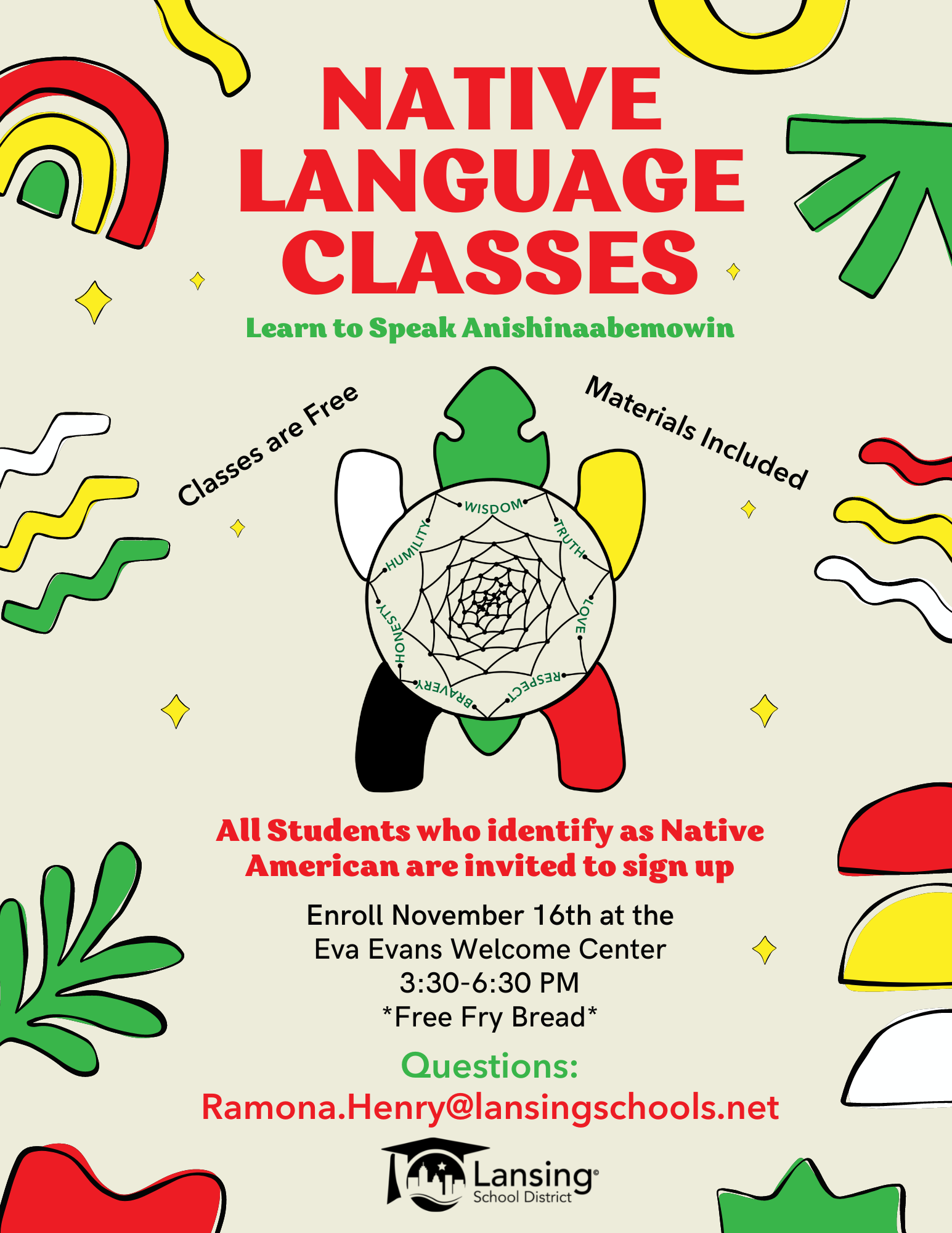 Anishinaabemowin or Ojibwemowin is an Indigenous language of the Anishinaabe or Ojibwe People of North America. Funding for these classes are provided by the Indian Education Grant and ESSER Funds.
Classes will be offered once a week and are open to all students who identify as Native American. Parents are invited to attend with their children so we are all learning together.
If you are interested in learning more about the language or are curious to learn some words check out the Ojibwe People's Dictionary Website which includes audio clips to hear pronunciation in the Minnesota/Wisconsin dialect.
After School Tutoring​
Mentor & cultural support
Social Studies Standards Guide
The Confederation of Michigan Tribal Education Departments (CMTED)

Resource Manual to accompany the 2019 Michigan State Board of Education Social Studies Standards Guide.
Books and Media
In an effort to explore the rich and diverse history of Native American culture, the LSD Special Populations team is excited to share it's

Native American Heritage Month Book List that Lansing School District teachers and staff can check out from our

DiverStory Library, during the month of November or any time during the school year by placing a request in

DiverStory Book Request. Some of the bilingual books include English and Anishnaabemowin stories for classroom reading fun! In addition, there are a variety of books that cover indigenous identity and culture topics that can be checked out and couriered within the district.
Thanksgiving Resources for Educators
"Teaching about Thanksgiving in a socially responsible way means that educators accept the ethical obligation to provide students with accurate information and to reject traditions that sustain harmful stereotypes about Indigenous peoples. Thankfully, there are excellent online resources that can help educators interested in disrupting the hegemonic Thanksgiving story." (Learning for Justice, 2015)
Community Resources
Nokomis Cultural Heritage Center is dedicated to the preservation of History, Arts, Culture and Language of the Anishinaabe people - Ojibwe, Odawa and Potawatomi nations. The Center fulfills this mission through programs, exhibitions and special events.

The North American Indigenous Student Organization (NAISO) strives to promote education and motivate the Native Student Community and majority community in and around Michigan State University (MSU) through social and cultural support.

Indian Student Eligibility Certification Form for Title VI Indian Education Formula Grant Program
The Lansing School District does its best to include all students that identify as Native American, however, for certain programming, a 506 form on file is required.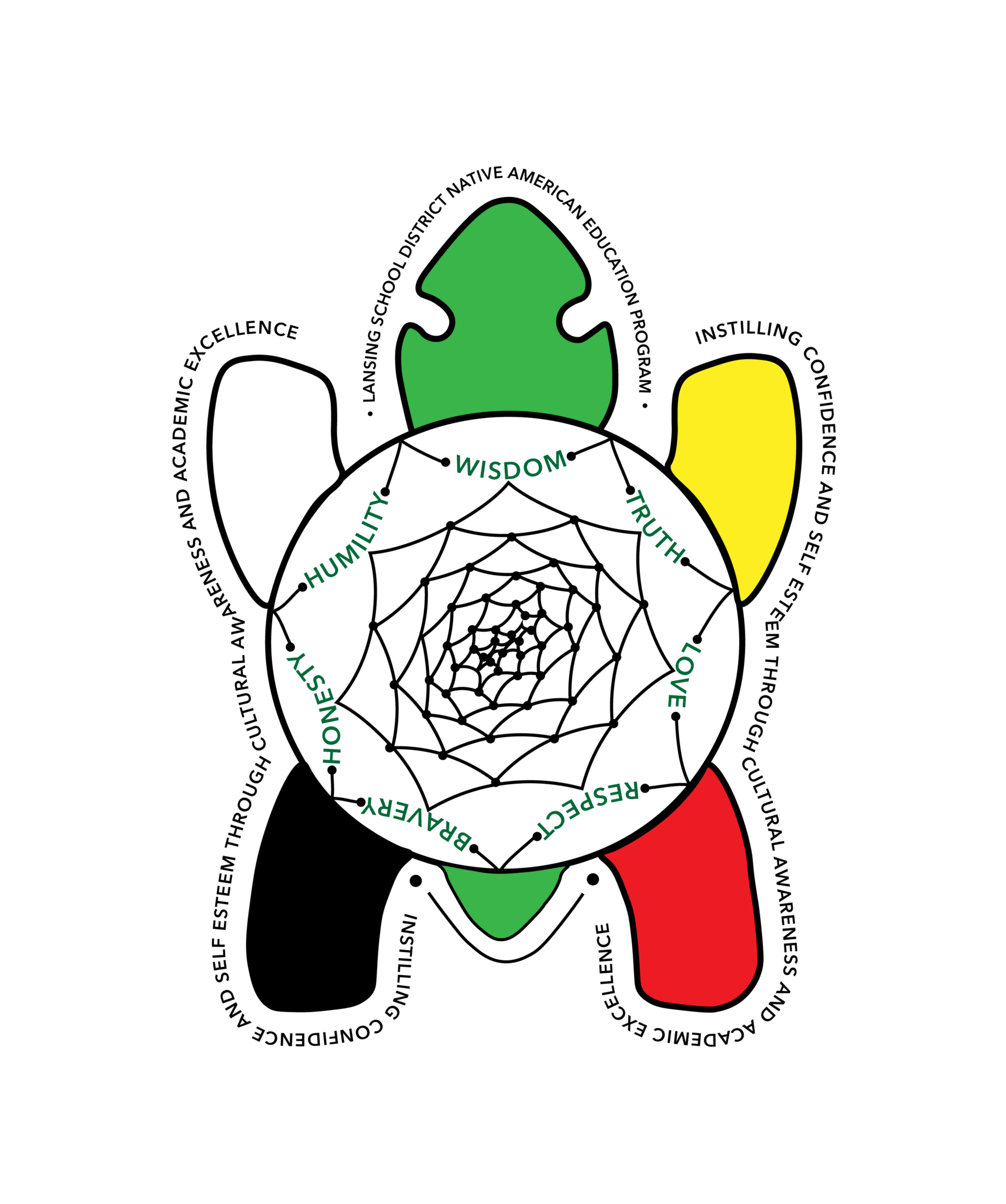 The Native American Program logo was created by a local Native American community member and has great significance in its meaning. The symbol of the turtle, as believed by the Turtle Clan, is representative of education and learning. A dream catcher is placed at the center of the shell, while the words embedded represent the 7 Grandfather Teachings: Wisdom - Truth - Love - Respect - Bravery - Honesty - Humility.
The program's mission outlines the image and states: Lansing School District Native American Education Program | Instilling confidence and self-esteem through cultural awareness and academic excellence.
We collectively acknowledge that Lansing School District occupies the ancestral, traditional, and contemporary Lands of the Anishinaabeg – Three Fires Confederacy of Ojibwe, Odawa, and Potawatomi peoples.
---
2400 Pattengill Ave,
Lansing, MI 48910
Open Monday thru Friday
8:00 A.M. to 5:00 P.M.
---
Program Coordinator
Ramona Henry
ramona.henry@lansingschools.net
517.755.4980