Career and Technical Education (CTE)
---
We offer programs in the Lansing School District in Graphic Arts, Emergency Medical Technology and Insurance Leadership Academy.

Early College and CTE Course Catalog
Core High School Credit & College Credit
CTE courses offer high school credits. 3rd year Science, 4th year Math, and English Language Arts. College credits range from 3-14.
---
Business and Risk Management Program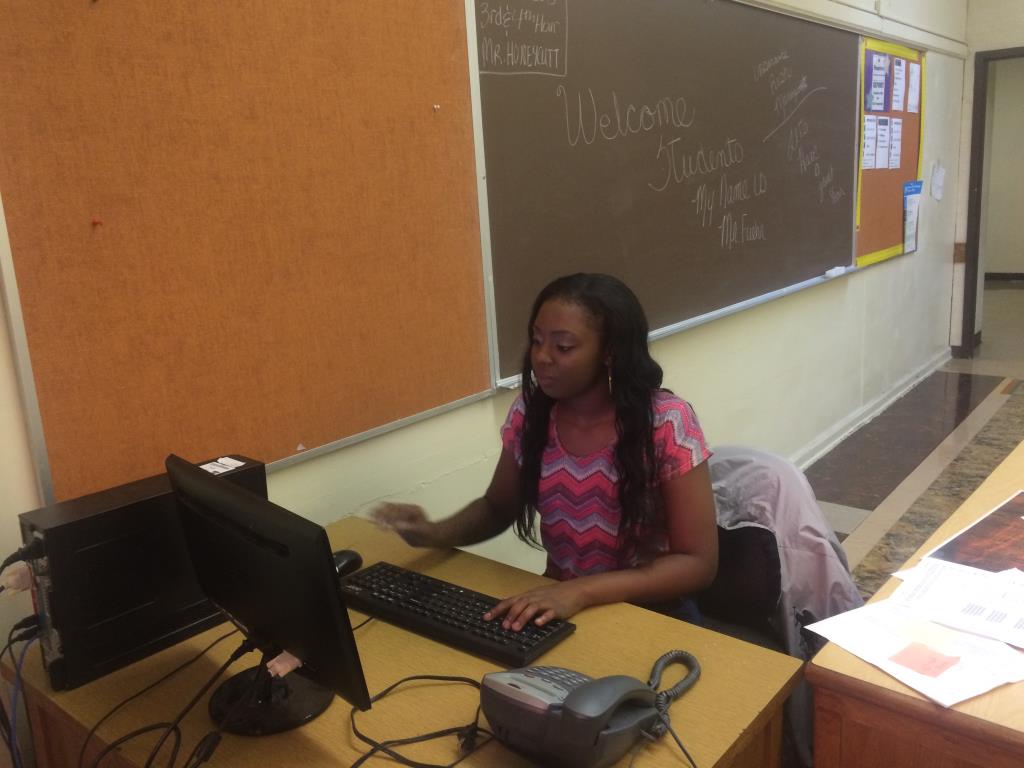 The Business and Risk Management Program Flyer
Opportunities in the insurance industry are endless. Insurance careers offer great earning potential, stability in a growing industry as well as a challenging and rewarding career path. This program allows students to explore the industry through a partnership with nationally recognized, Accident Fund Insurance Company of America. Students enrolled in this program will spend four (4) days per week in the classroom, and one (1) day per week at Accident Fund learning about the variety of careers in the insurance field while gaining hands-on experience.
Carrier choices can include:
Agent • Actuary • Claims Adjuster • Special Investigator • Loss Prevention Specialist • Marketing Representative • Network Administrator • Product Development Specialist • Underwriter
Job Outlook:
Forty (40) percent of the current local workforce in this field is age 55 or older and will soon retire. Some of the high demand areas that will see faster than average employment growth include Sales Agents, Actuaries, Information Security Analysts, Marketing Specialists and Management Analysts to name a few.
Salary Ranges:
Insurance Sales Agent - $48,210
Actuary - $93,340
Claims Adjuster - $61,191
Fraud Examiner - $62,510
College Partnerships:
Olivet College (12 credits)
High School Credit:
4th Year Math
3rd Year Science
Elective
Visual Performing Arts
World Language
Classes:
AINS 21 Property and Liability
Insurance Principles
AINS 22 Personal Insurance
AINS 23 Commercial Insurance
AINS 24 Insurance Licensing
The AM session of this program will be housed at Sexton High School. Transportation to Accident Fund Insurance Company will be provided to all students from their classroom location.
| | | | |
| --- | --- | --- | --- |
| GRADE LEVEL | PROGRAM DURATION | TIME OFFERED | TRANSPORTATION |
| 11-12 | 2 YEARS | | YES |

To apply: contact Mr. Aldrich at 517-755-4690 or e-mail at david.aldrich@lansingschools.net
---
Graphic and Print Technician
Graphic designers create visual concepts, using computer software and various Hi-Tech equipment, to communicate ideas that inspire, inform, and captivate consumers. They develop the overall layout and production design for various applications such as t-shirts, signage, promotional items, and imprinted sportswear.
Graphic designers work with both text and images. They often select the type, font, size, color, and line length of headlines, headings, and text. Graphic designers also decide how images and text will go together on a print or other substrates, including how much space each will have. They may use a variety of design elements to achieve artistic or decorative effects.
Graphic design is important to marketing and selling products, and is a critical component of brochures and logos. Therefore, graphic designers, also referred to as graphic artists or communication designers, often work closely with people in advertising and promotions, public relations, and marketing.
Equipment students will use include, Roland VersaCAMM print & cut vs300i, Roland VersaCAMM print & cut vs540i, Brother GT-381 Direct to Garment Printer, Epilog 50watt Laser Engraver, SWF 1501 & 1502 15 thread embroidery machine. Ricoh 7000 Sublimation Dye Bubblejet Printer, 24" Roland CAMM-1 servo, 30" Roland CAMM-1 pro, U.S.A. button machines, HotTronix heat presses and screen printing equipment.
Projects students will complete include: business cards, notepads buttons, t-shirt's, banners, invitations, custom cut contour stickers, nameplates, ceramic tiles, phone cases, coffee cups, low tack adhesive vinyl, embroidery, laser marking on glass and other substrates.
ENTRY REQUIREMENTS
Junior or senior in high school and on track to graduate on time
2.0 GPA or above
Good attendance
Positive outlook
Commitment to finish the year long program
Careers
Art Director • Craft and Fine Artist • Desktop Publishing Drafter • Industrial Designer • Animator • Technical Writer • Web Developer
Salary Ranges
$27,950 to $82,020
| | | | |
| --- | --- | --- | --- |
| GRADE LEVEL | PROGRAM DURATION | TIME OFFERED | TRANSPORTATION |
| 11-12 | 1 OR 2 YEARS | | YES |

Located at the Hill Center, contact Dennis Harrington, Graphic and Print Instructor, at (517)755-2797or dennis.harrington@lansingschools.net
---
Health Sciences
Health Sciences is a half day CTE program that provides students the opportunity to become effective and efficient multi-skilled healthcare providers.
Students will develop a working knowledge of advanced patient care skills, vital signs, patient care procedures, and body mechanics.
This program combines classroom learning with labs and clinical experience to give students dynamic, hands-on patient care technician training. It also provides work base learning opportunities with at least three medical organizations (hospitals, assisted living, and or medical clinics) and requires a three-day overnight skills camp in Michigan.
Students will be prepared for basic patient care under direction of nursing staff. Perform duties such as feed, bathe, dress, groom, move patients, or change linens. Students will earn a CPR Certification, First Aid Certification, Bloodborne Pathogen Certification and many FEMA certifications.
ENTRY REQUIREMENTS
Juniors or seniors in high school and on track to graduate on time
2.0 GPA or above
Good attendance
Positive outlook
Commitment to finish the year long program
Careers
Nursing Assistants • Home Health Aides • Healthcare Support Workers • Patient Care Technician
Salary Ranges
$26,590 to $37,900
College Credits Available
This program has articulation agreements for college credit with Baker College, Davenport University and Lansing Community College.
| | | | |
| --- | --- | --- | --- |
| GRADE LEVEL | PROGRAM DURATION | TIME OFFERED | TRANSPORTATION |
| 11-12 | 1 YEAR | | YES |
This program is located at Eastern High School, contact Renee Eis, PCT Instructor, at (517)755-4177 or renee.eis@lansingschools.net
---
Fire Science Academy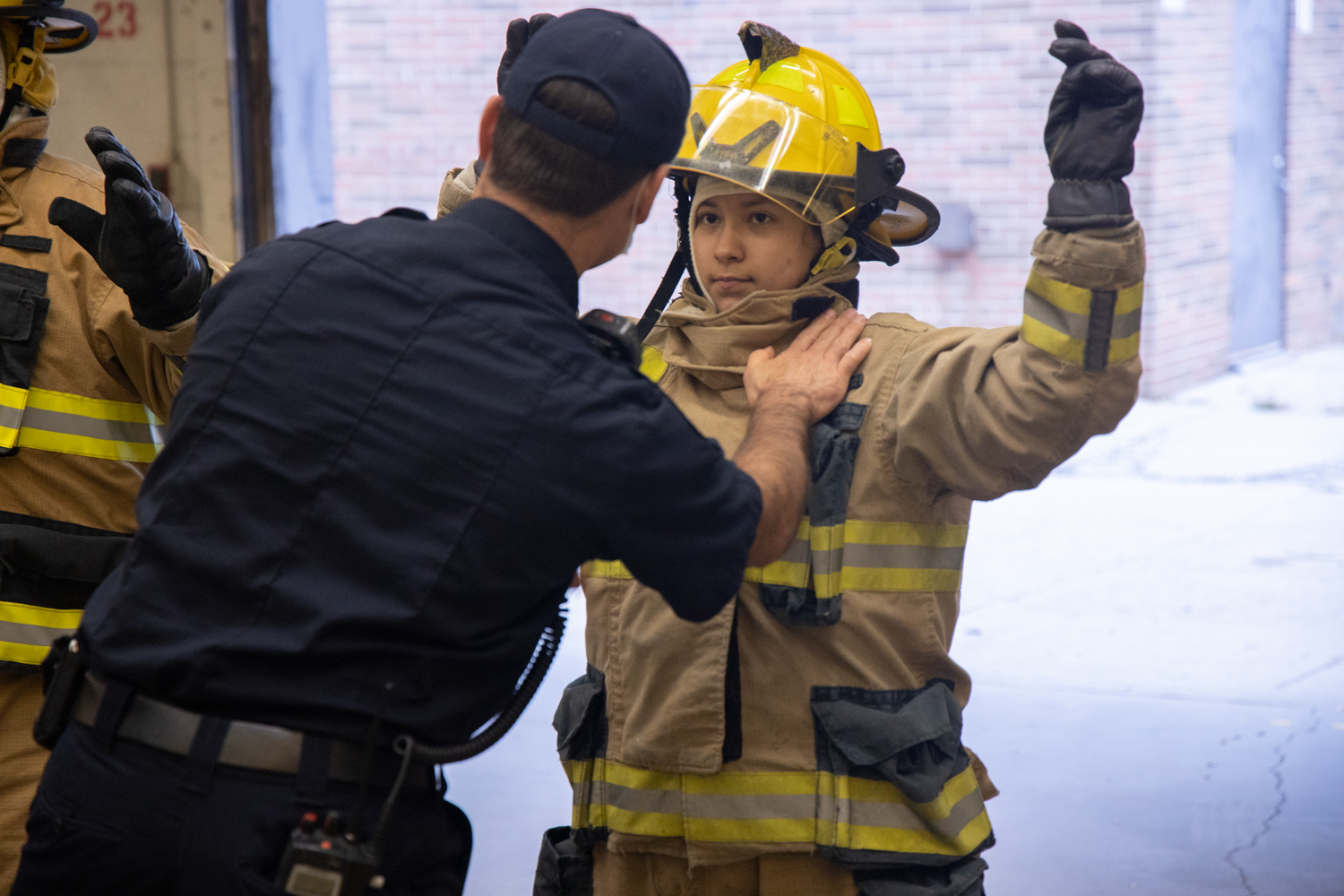 A firefighter is a highly skilled professional who works to combat and extinguish fires. They also take steps to prevent fires, act as emergency medical technicians (EMT) and investigate the causes of fires. A firefighter is almost always the first official "on the scene" of fires, car accidents, or other emergencies, which is why they are also sometimes called "first responders." Some firefighters are career professionals while others volunteer for duty within their communities.
Students in the Fire Science Academy will learn the foundational skills needed to pursue a professional career in a fire department. The Lansing School District in collaboration with the Lansing Fire Department offers a program to prepare students for careers in the area of fire prevention, suppression, rescue, investigation, fire equipment service and emergency planning and preparedness.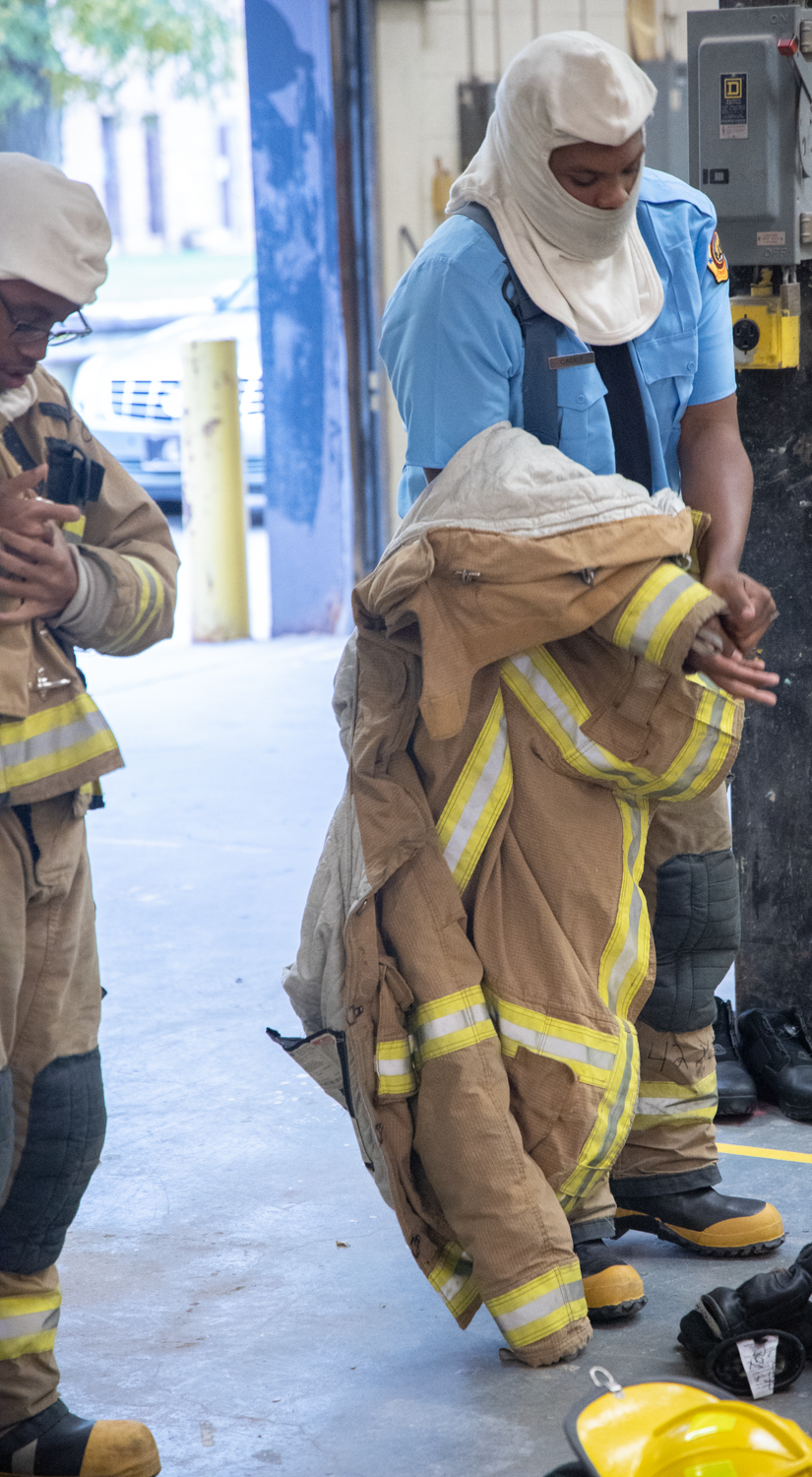 Fire Science Academy students are expected to report, in uniform, at the beginning of each class period by standing at attention for roll call, presenting personal gear for inspection, and showing evidence of the completion of all assignments. The course is conducted on a military model where physical fitness, discipline, and decorum are highly valued.
Admission to the program is very competitive. Students will undergo a thorough review of academic and personal preparation where grades, attendance, citizenship, and teacher references will be considered. Each applicant will be interviewed by a panel of current firefighters and LSD staff to determine the true level of interest and dedication to the profession.
Entry Requirements
Junior or Senior in high school and on track to graduate on time
2.5 GPA or higher
Exemplary attendance
Commitment to program completion
Good Physical Health
Careers
Firefighter • Emergency Medical Technician • Fire Investigator • Woodland Firefighter • Airport Crash Crew/Firefighter
Salary Range
$35,711 to $59,517
| | | | |
| --- | --- | --- | --- |
| GRADE LEVEL | PROGRAM DURATION | TIME OFFERED | TRANSPORTATION |
| 11-12 | 1 YEAR PROGRAM | | YES |
Location Hill Center, contact Jon Chapman, CTE Coordinator 517.755.1601 jonathan.chapman@lansingschools.net
---
CTE Information Application
Please fill out the following form for more information about our CTE programs.