The Lansing School District's Career Technical Education (CTE) programs provide 11th and 12th grade students with the academic and technical skills, knowledge and training necessary to succeed in future careers and to become lifelong learners. CTE prepares these learners for the world of work by introducing them to workplace competencies and by making academic content accessible to students by providing it in a hands-on context. The high school graduation rate for CTE seniors is about 90 percent – 15 percentage points higher than the national average.
Business and Risk Management Program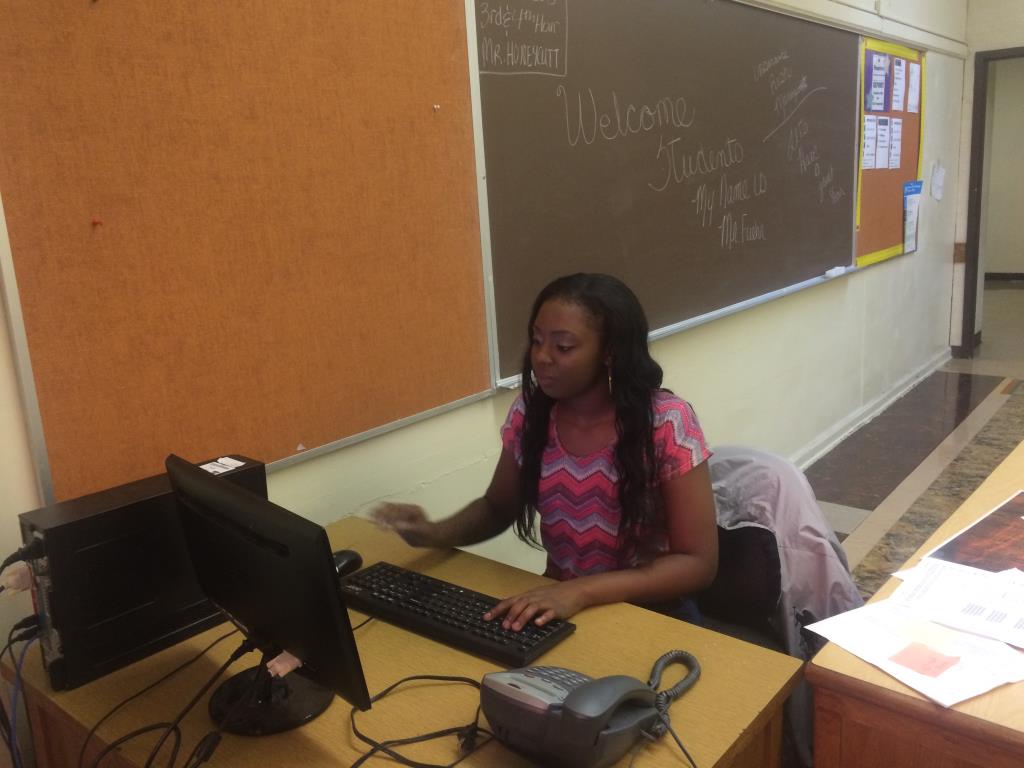 The Business and Risk Management Program Flyer
In this two year program, students will learn the aspects of the insurance industry and theories on how to underwrite for clients, make claims adjustments, and manage loss events for insurance companies.
This program teaches why "risk" is an essential part of the business world and why every investment can lead to high returns or substantial losses. Students will learn how to find a cost-efficient solution for potential losses—which is what risk management is all about.
Students will have the opportunity to earn three industry certifications in areas such as Property and Liability, Personal Insurance and Commercial Insurance. Olivet College is our partnering post-secondary institution and will grant up to 12 college credits to all students who successfully complete the program.
Upon successful completion of that class, students can take the State Licensing Exam for their Producer (Agent) Licenses.
Careers
Underwriter
Insurance Agent
Insurance Agency Owner
Independent Broker
Salary Ranges
$48,000 to $94,000
Credits Available
This program offers 12 dual enrollment college credits with Olivet College
High School credits - 1.5 per semester
| | | | |
| --- | --- | --- | --- |
| GRADE LEVEL | PROGRAM DURATION | TIME OFFERED | TRANSPORTATION |
| 11-12 | 1 OR 2 YEARS | 7:30-10:30 A.M. | YES |

Located at the Hill Center, contact Mr. Aldrich at 517-755-4690 or david.aldrich@lansingschools.net
---
Emergency Medical Technician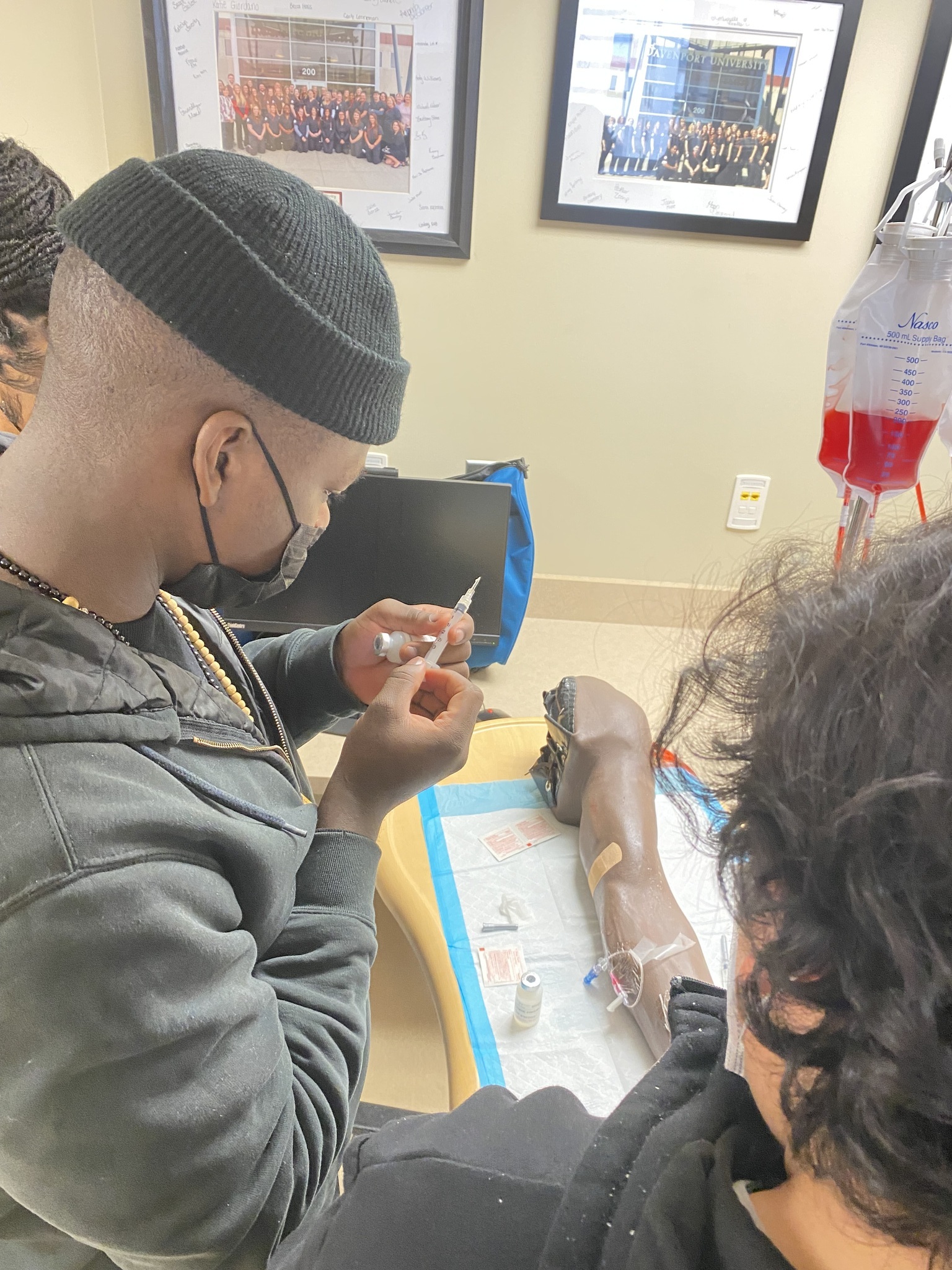 Students will learn skills that provide on-the-scene, immediate medical care to patients in emergency situations such as automobile accidents or heart attacks; help stabilize the sick or injured then transport them to a medical facility; assess an emergency scene, control bleeding, apply splints, assist with childbirth, administer oxygen and perform CPR and other basic life support skills. Students will also be prepared for entry-level employment in various EMT roles: transporting patients between facilities, responding to emergency calls, working in a hospital emergency department, and other facilities where skills of a first-responder are required.
This EMT program requires two (2) ambulance ride-along shifts, at least two medical work-based learning experiences, and a mandatory three (3) day overnight skills camp in Michigan.
*This course will also help students prepare for the national EMT certification.
Careers
Paramedic
Ambulance Operator
Rescue Technician
Salary Ranges
$32,670 to $56,310
Credits Available
Lansing Community College
Davenport University
Baker College
High school credits - 1.5 per semester
| | | | |
| --- | --- | --- | --- |
| GRADE LEVEL | PROGRAM DURATION | TIME OFFERED | TRANSPORTATION |
| 11-12 | 1 OR 2 YEARS | 11:05 A.M. 2:05 P.M. | YES |

Located at the Hill Center, contact Debbie Farnsworth, PCT Instructor, at (517)755-4177 deborah.farnsworth@lansingschools.net
---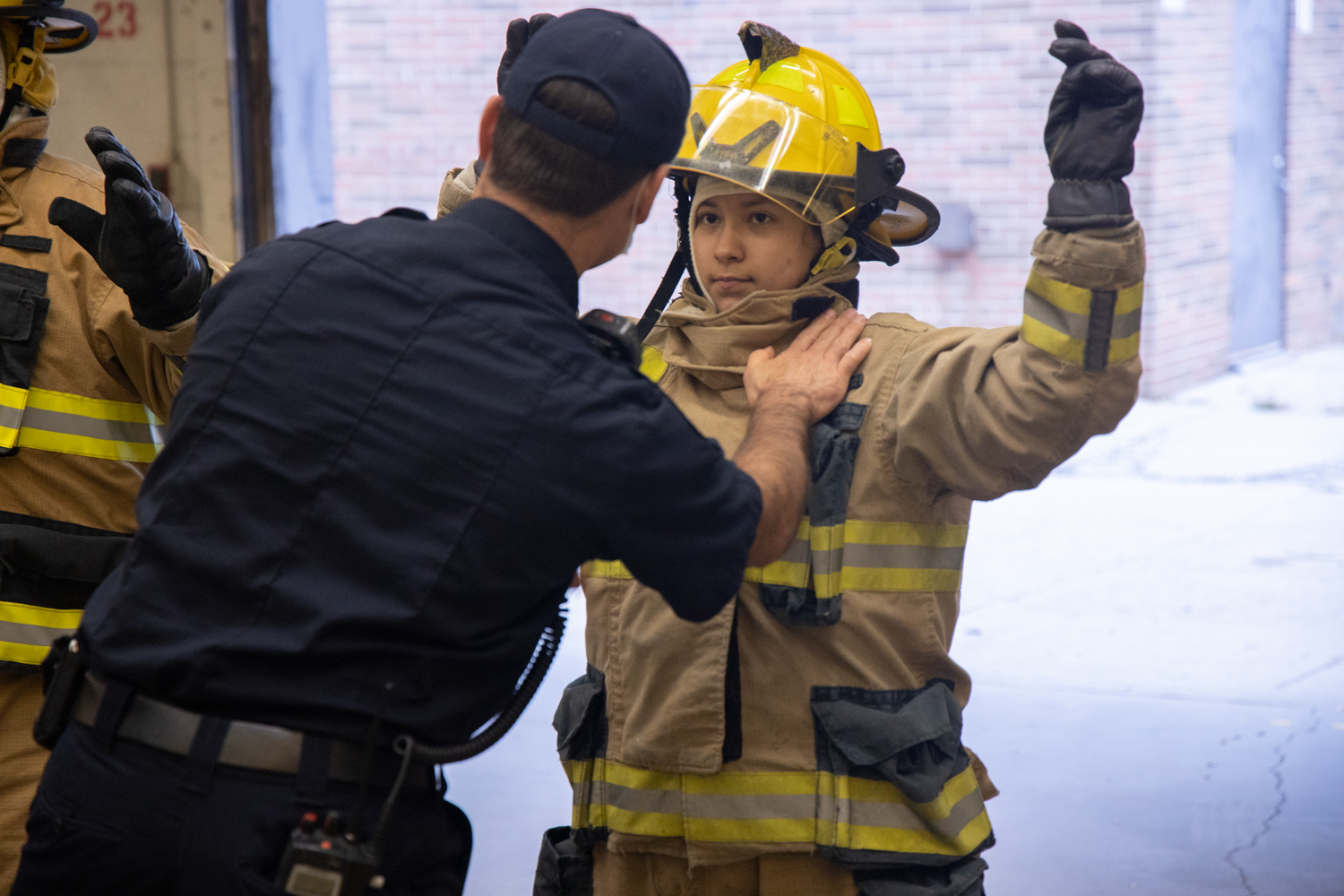 A firefighter is a highly skilled professional who works to combat and extinguish fires. They also take steps to prevent fires, act as emergency medical technicians (EMT) and investigate the causes of fires. A firefighter is almost always the first official "on the scene" of fires, car accidents, or other emergencies, which is why they are also sometimes called "first responders." Some firefighters are career professionals while others volunteer for duty within their communities.
Students in the Fire Science Academy will learn the foundational skills needed to pursue a professional career in a fire department. The Lansing School District in collaboration with the Lansing Fire Department offers a program to prepare students for careers in the area of fire prevention, suppression, rescue, investigation, fire equipment service and emergency planning and preparedness.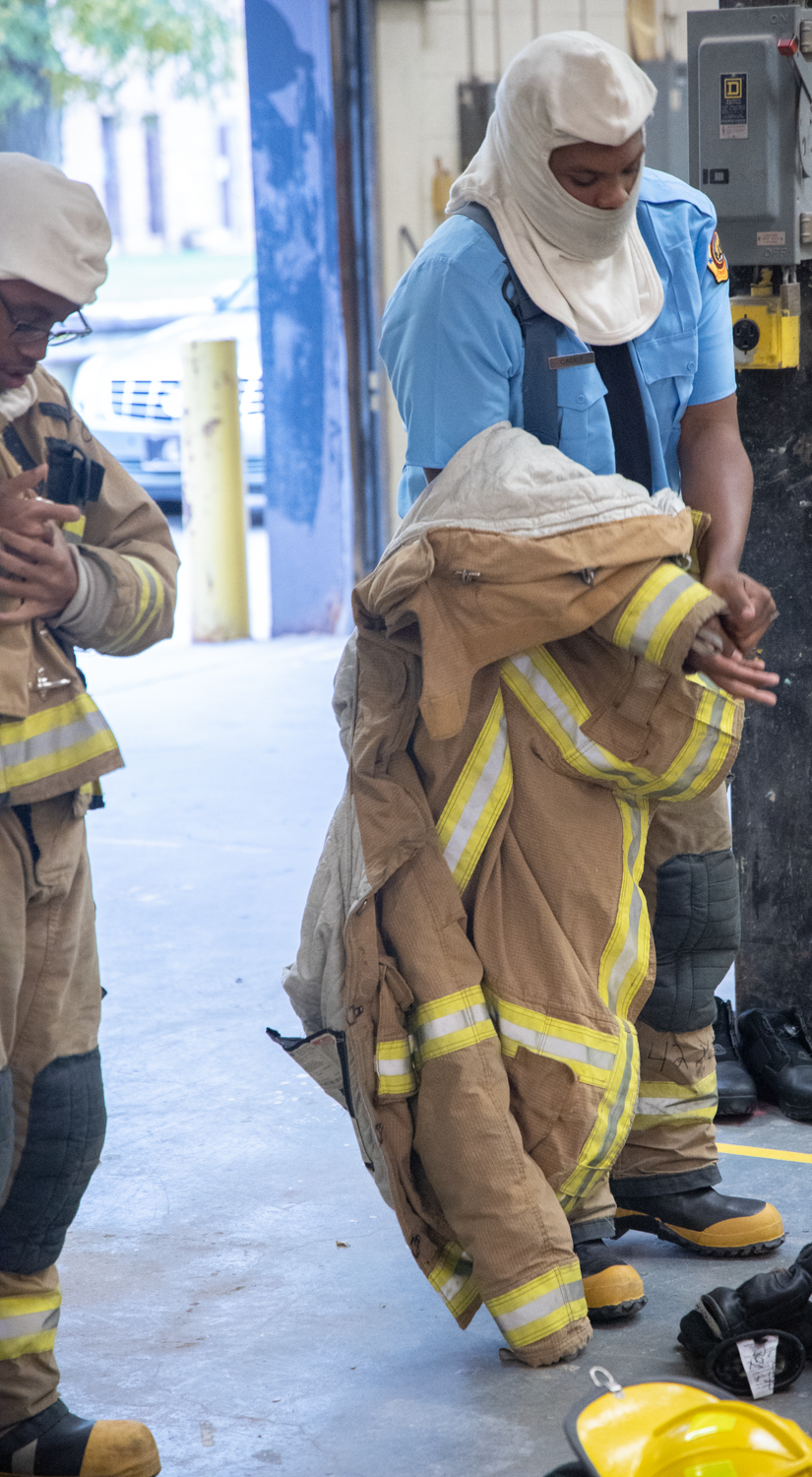 Fire Science Academy students are expected to report, in uniform, at the beginning of each class period by standing at attention for roll call, presenting personal gear for inspection, and showing evidence of the completion of all assignments. The course is conducted on a military model where physical fitness, discipline, and decorum are highly valued.
Admission to the program is very competitive. Students will undergo a thorough review of academic and personal preparation where grades, attendance, citizenship, and teacher references will be considered. Each applicant will be interviewed by a panel of current firefighters and LSD staff to determine the true level of interest and dedication to the profession.
Careers
Firefighter
Emergency Medical Technician
Fire Investigator
Airport Crash Crew
Salary Ranges
Credits Available
High school credits - 1.5 per semester
| | | | |
| --- | --- | --- | --- |
| GRADE LEVEL | PROGRAM DURATION | TIME OFFERED | TRANSPORTATION |
| 11-12 | 1 YEAR PROGRAM | 11:05 A.M. 2:05 P.M. | YES |

Location Hill Center, contact Captain Rahshemeer Neal, FSA Instructor at 517.755.3997 or rahshemeer.neal@lansingschools.net
---
Graphic and Print Technician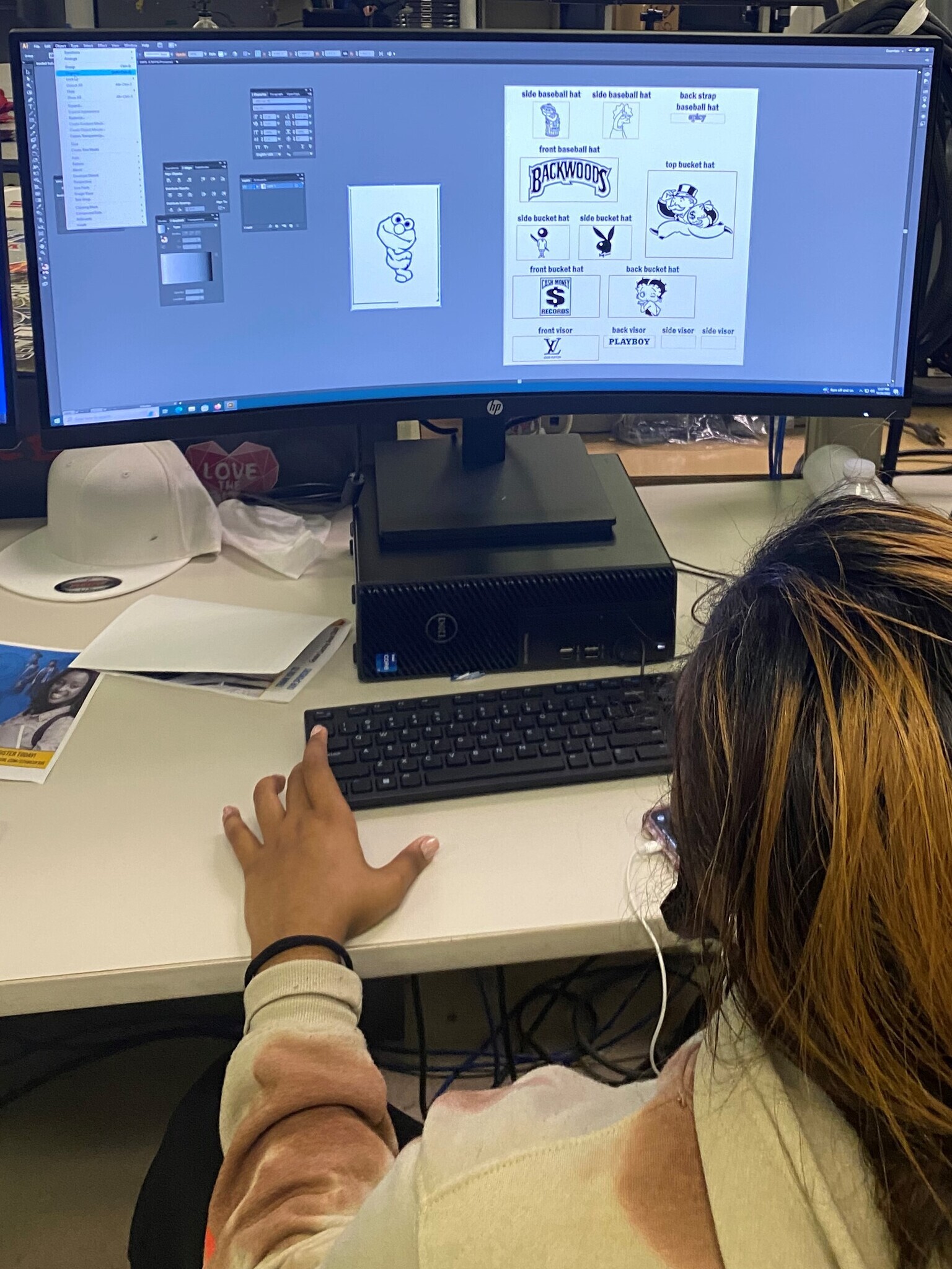 Graphic designers create visual concepts, using computer software and various Hi-Tech equipment, to communicate ideas that inspire, inform, and captivate consumers. They develop the overall layout and production design for various applications such as t-shirts, signage, promotional items, and imprinted sportswear.
Graphic designers work with both text and images. They often select the type, font, size, color, and line length of headlines, headings, and text. Graphic designers also decide how images and text will go together on a print or other substrates, including how much space each will have. They may use a variety of design elements to achieve artistic or decorative effects.
Graphic design is important to marketing and selling products, and is a critical component of brochures and logos. Therefore, graphic designers, also referred to as graphic artists or communication designers, often work closely with people in advertising and promotions, public relations, and marketing.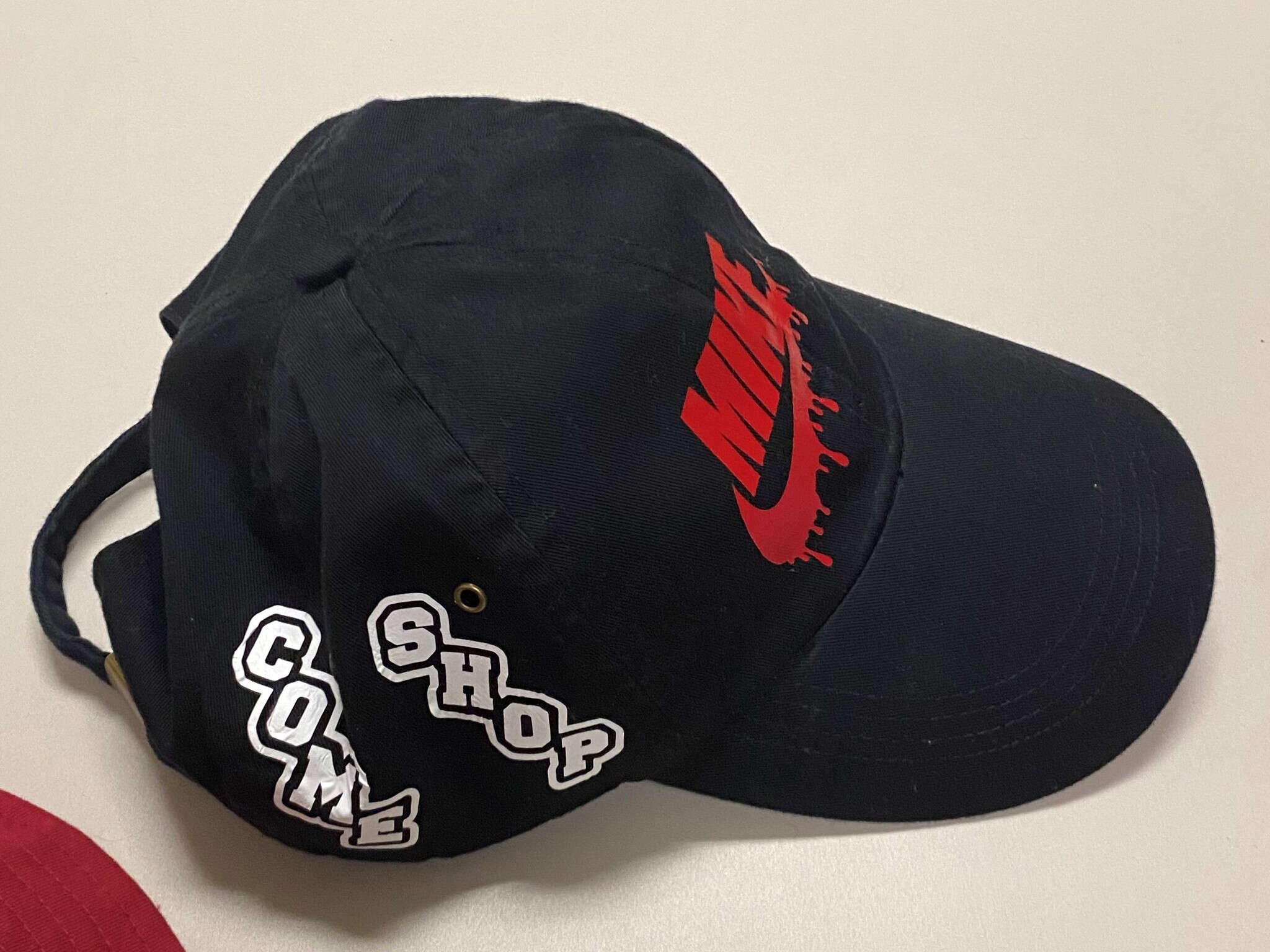 Equipment students will use include, Roland VersaCAMM print & cut vs300i, Roland VersaCAMM print & cut vs540i, Brother GT-381 Direct to Garment Printer, Epilog 50watt Laser Engraver, SWF 1501 & 1502 15 thread embroidery machine. Ricoh 7000 Sublimation Dye Bubblejet Printer, 24" Roland CAMM-1 servo, 30" Roland CAMM-1 pro, U.S.A. button machines, HotTronix heat presses and screen printing equipment.
Projects students will complete include: business cards, notepads buttons, t-shirt's, banners, invitations, custom cut contour stickers, nameplates, ceramic tiles, phone cases, coffee cups, low tack adhesive vinyl, embroidery, laser marking on glass and other substrates.
Careers
Art Director
Desktop Publishing Drafter
Industrial Designer
Animator
Technical Writer
Web Developer
Salary Ranges
Credits Available
This program has an articulation agreement for college credit with Ferris State University.
High School credits - 1.5 per semester
GRADE LEVEL
PROGRAM DURATION
TIME OFFERED
TRANSPORTATION
11-12
1 OR 2 YEARS
7:30-10:30 A.M.
11:05 A.M. 2:05 P.M.
YES

Located at the Hill Center, contact Dennis Harrington, Graphic and Print Instructor, at (517)755-2797or dennis.harrington@lansingschools.net
---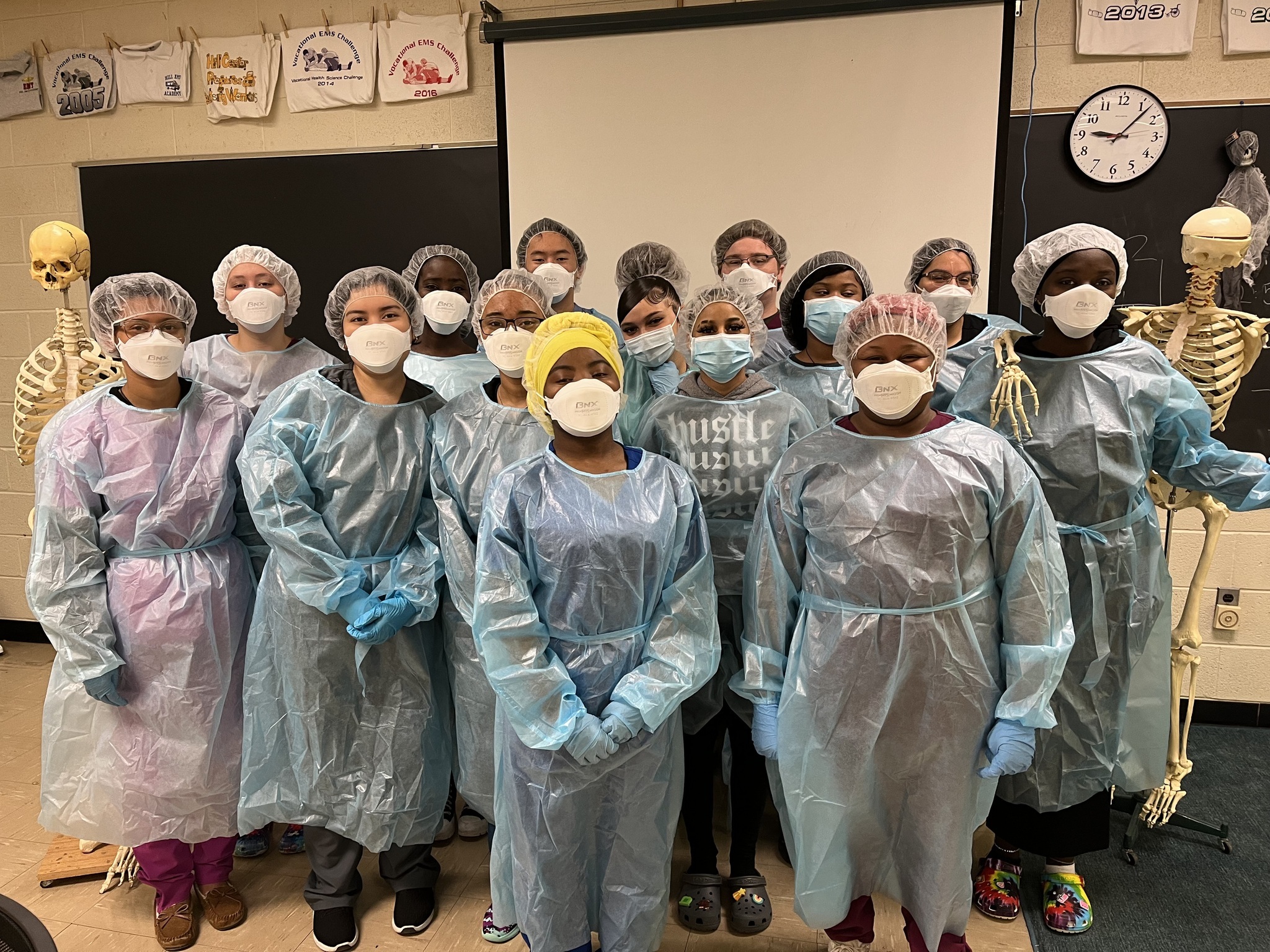 Patient Care Technician is a half day CTE program that provides students the opportunity to become effective and efficient multi-skilled healthcare providers.
Students will develop a working knowledge of advanced patient care skills, vital signs, patient care procedures, body mechanics, phlebotomy and electrocardiography (EKG).
This program combines classroom learning with labs and clinical experience to give students dynamic, hands-on patient care technician training. It also provides work base learning opportunities with at least three medical organizations (hospitals, assisted living, and or medical clinics) and requires a three-day overnight skills camp in Michigan.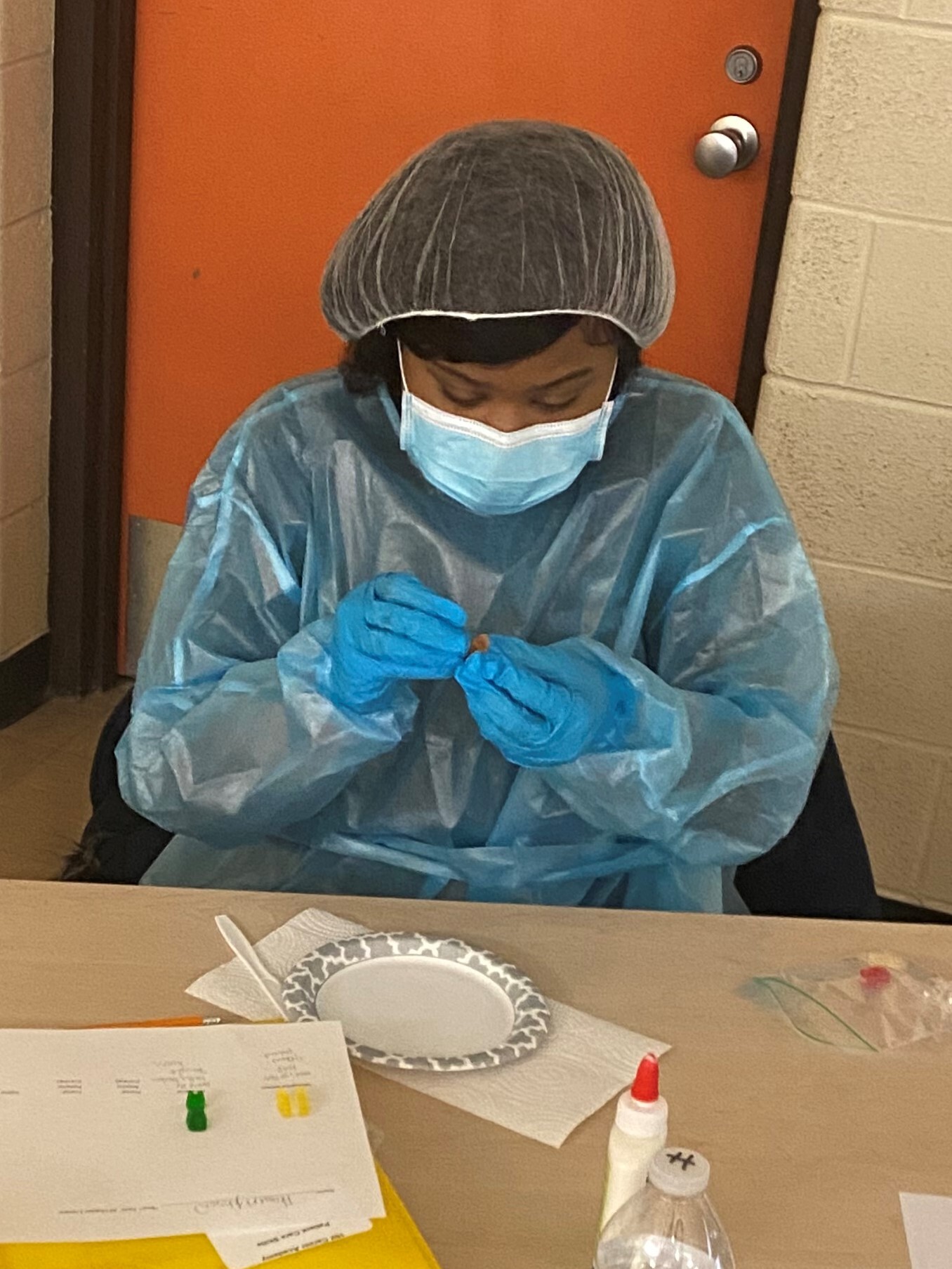 Students will be prepared for basic patient care under direction of nursing staff. Students learn how to perform duties such as feed, bathe, dress, groom, or move patients, or change linens. Students will earn a CPR Certification and be trained to transfer and transport patients.
Careers
Nursing Assistants • Home Health Aides • Healthcare Support Workers • Patient Care Technician
Salary Ranges
$26,590 to $37,900
Credits Available
This program has articulation agreements for college credit with Davenport University and Baker College.
High School Credits
1.5 per semester
| | | | |
| --- | --- | --- | --- |
| GRADE LEVEL | PROGRAM DURATION | TIME OFFERED | TRANSPORTATION |
| 11-12 | 1 OR 2 YEARS | 7:30-10:30 A.M. | YES |

Located at the Hill Center, contact Debbie Farnsworth, PCT Instructor, at (517)755-4177 deborah.farnsworth@lansingschools.net
Skilled Trades in Construction
Skilled Trades in Construction is a one-year exploratory program that introduces students to the building trades areas of:
Masonry
Painting & Glazing
Plumbing & Pipefitting
Sheet Metal Fabrication
Siding & Roofing
Carpentry
Electrical
Flooring
Heavy Equipment Operation
Iron/Steel Work
Concrete Repair
Students are given the opportunity for success through various methods of instruction coupled with hands-on learning in a workshop environment. The curriculum emphasizes safety practices and the proper use of both hand and power tools. Students will receive OSHA 30 training to achieve an OSHA National Certification.
---
CTE Information Application
Please fill out the following form for more information about our CTE programs.
CTE Program Application
 ALL HILL CTE PROGRAMS FOR 2022-2023 ARE FULL.  Please talk to your school counselor to get on the waitlist.
---
Not finding classes that fit your career pathway?
Check out other CTE programs in the Lansing area: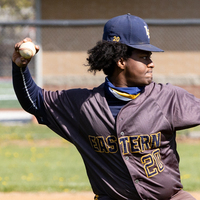 11,500 Enrollment by 2025
85% Graduation Rate by 2025