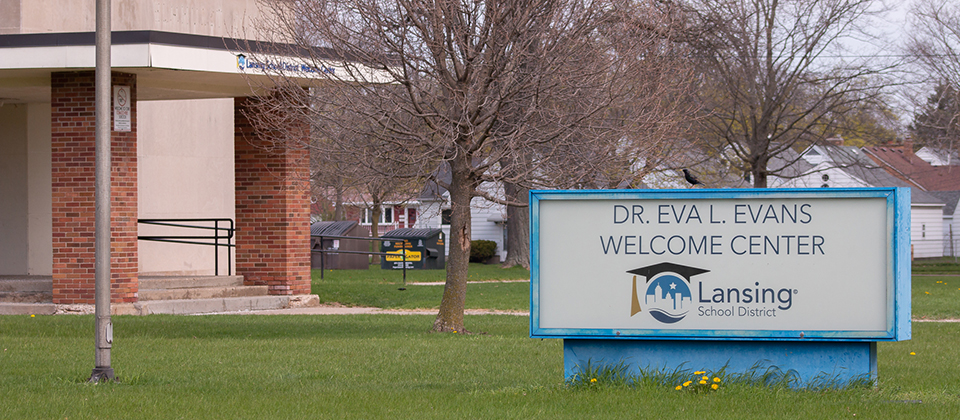 Dr. Eva L. Evans Welcome Center
---
We believe all students and their families are welcome in the Lansing School District. Our message is simple; we are here to help you learn and grow. The Dr. Eva Evans Welcome center is where families can truly begin their district and, in some cases, their American journey. At the welcome center, new families are met with all the tools and resources they need to start a new life in our community.
We are here to help, so come see everything we offer by visiting us at
The Dr. Eva L. Evans Welcome Center is located at 2400 Pattengill Ave, Lansing, MI 48910
Call (517) 755-2820 now for enrollment information!
Additional support is provided at the Welcome Center for students so that when they arrive at their local school, they are ready to begin learning. This center helps facilitate strong partnerships between the district and community agencies for the benefit of students and families, and creates a customer-friendly enrollment experience for all students and their families.
Housed at the Welcome Center are:
Enrollment offices for
RSVP - Retired and Senior Volunteer Program
Native American Education Program
RIF - Reading is Fundamental Program
A Global Leader with a Community Impact
As a national leader in education and an accomplished humanitarian, Dr. Evans dedicated her career to developing opportunities for under served populations. Born in Memphis, Tennessee on January 14, 1935, she later earned her B.S. and M.A. degrees from Wayne State University in Detroit, Michigan. As an undergraduate she was initiated into Alpha Kappa Alpha Sorority, Incorporated at Xi Chapter, which was housed at Wayne State University at that time. She later affiliated with local graduate chapters before relocating to Lansing. In1976, she earned her Ph.D. in administration and higher education from Michigan State University in East Lansing, Michigan.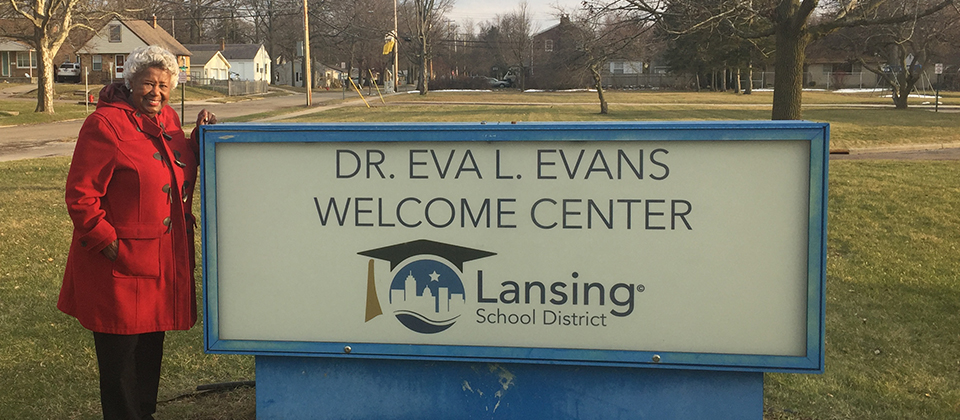 In her home community of Lansing and throughout Michigan, Dr. Evans broke barriers and accomplished many "firsts." She was named Lansing Schools' first female deputy superintendent in charge of instruction after successfully serving as director of elementary education. She was a "hands-on" school district leader who developed and implemented many innovative programs. Among them were schools of choice, Reading is Fundamental (RIF) and a district wide talent fair for students and staff. She connected the school district with Lansing Community College and Michigan State University to establish the "2+2+2 Engineering Program." This initiative provided a framework, foundation and direct pathway for minority students to qualify for admission to Michigan State's College of Engineering. She also tapped into students' artistic side by creating the "Be a Star" performing arts pro-gram. These partnerships have endured over time, benefiting countless families and shaping practice and policy in education, health care and social services.
Dr. Evans' community contributions are legendary. She was general campaign chairman and Tri-County chair of the United Way campaign; vice chairman of the Lansing Board of Water and Light; trustee of Michigan State University's Board of the College of Education; and a member of Sparrow Hospital Women's Board of Managers. She was appointed by the governor to serve on the Michigan Council for the Humanities, and also served as Chairman of the Michigan Department of Civil Rights. She remains active and in demand as a presenter and speaker, and is currently a member of the Lansing Community College Foundation and the Lansing/East Lansing Chapter of Links, Incorporated. Her personal points of pride include performing with Lansing's renowned Earl Nelson Singers Company for more than 25 years, and her 37-year membership in the 144-year old Lansing Woman's Literary Club where she has presented 13 scholarly papers.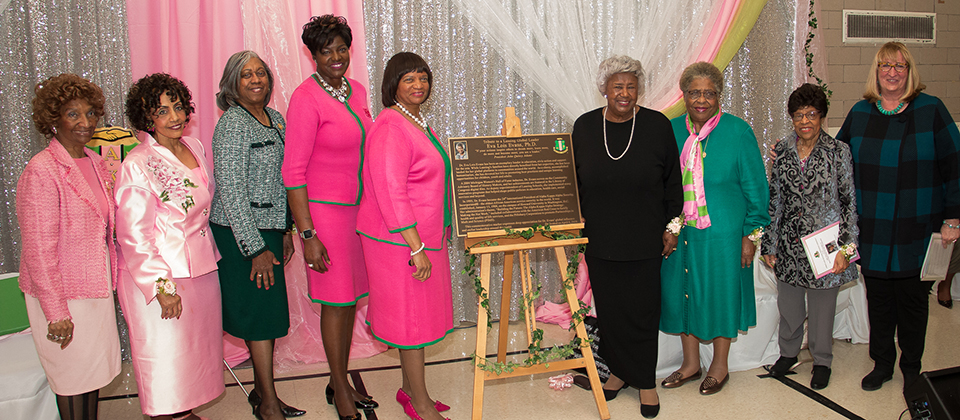 Dr. Evans' life has been profiled by The History Makers, the Nation's Largest African American Video Oral History Collection. She was also among the first group of individuals profiled on The Black Success Network, a high tech Michigan-based startup that shares stories of African Americans who are making outstanding contributions in their professional and community life. Among her many honors, she has received the YWCA's Diana Award for Excellence in Education, Lansing Chamber of Commerce ATHENA Leadership Award, NAACP's Educator of the Year, Michigan State University's Crystal Apple Award for Education, and the Applause Award from the Lansing Center for the Arts. In 2005, she was inducted into the Michigan Women's Hall of Fame, and in 2012, received the Capital Area United Way's highest honor for service, the Walter A. Campbell Award.
The impact of Eva L. Evans' dedication, efforts and talent has been experienced around the world. She has served Alpha Kappa Alpha Sorority, Incorporated in a variety of key roles, including Great Lakes Regional Director, National Program Chairman and Leadership Fellows consultant. As the 24th International President from 1994–1998, she established the theme "Building the Future: The Alpha Kappa Alpha Strategy: Making the Net Work." She also launched her signature program, Partnerships in Math and Science (PIMS), by networking with major entities. Key partners included Elizabeth Dole of the American Red Cross, and the Pillsbury Corporation to educate people about HIV/AIDS. Her administration added a record number of African Americans to the National Bone Marrow Registry. At the 1996 Boulé (the sorority's biennial convention) a $50,000 contribution was made to the NAACP and a $75,000 contribution to the United Negro College Fund (UNCF). She completed her term with an additional $50,000 to the NAACP and $25,000 to UNCF.
Dr. Evans has traveled extensively for personal enjoyment and to visit sorority chapters within and outside of the continental United States. Among them are Monrovia, Liberia; Nassau and Freeport, Bahamas; St. Croix, St. Thomas and St. John, U.S. Virgin Islands; Johannesburg, South Africa; Bermuda; England; Germany; Okinawa & Tokyo, Japan; Seoul, Korea; Canada; and Dubai/Abu Dhabi, United Arab Emirates.
Contact Information
Dr. Eva L. Evans
Welcome Center
2400 Pattengill Ave,
Lansing, MI 48910
Open Monday thru Friday
8:00 A.M. to 5:00 P.M.
Enrollment Information
517-755-1290
Sergio Keck
Deputy Superintendent of Special Populations
517-755-2946
sergio.keck@lansingschools.net