Strategic Plan
LSD Strategic Plan Process 2022
Creating an updated Strategic Plan for the Lansing School District is a valuable and important process to articulate a shared vision for the future, to provide focus and unify efforts on behalf of our students. Over the next few months, the Lansing School district will embark on creating an updated Strategic Plan for the next three to five years.
Foundation of Community Input
Strategic planning plays a vital role in ensuring that continuous improvement efforts take place in every part of the district, especially in schools. It puts procedures in place to establish and document the steps our organization will take to realize its aims by identifying where district programs are now and envisioning where we want them to be.
The Strategic Plan will be shaped by staff, students, families, and community members through a series of in-person and online community forums and surveys. The participation and input of the members of our community is critical so that all stakeholder perspectives on what is important are reflected in the Strategic Plan.
The Process
In partnership with Michigan State University's Office of K-12 Outreach in the College of Education, we will review our previous work and identify our district's priorities and strengths. We will also address critical issues and challenges so the district is prepared to meet these needs.
The work will be led by the Strategic Planning Steering Committee, composed of LSD central office and School Board of Education leadership as well as MSU K-12 specialists. In addition, subcommittees that represent every part of the community will engage in identifying the priorities, areas of strength, and potential challenges.
Figure 1: Sample Framework for Facilitating Strategic Planning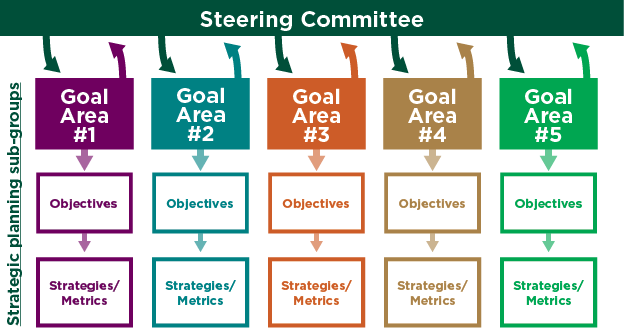 The work of both groups will be informed by the input from key stakeholder groups through parent, community, staff and student input sessions and from feedback provided on the Strategic Planning Feedback Surveys. The data collected from these feedback processes will determine the focus of Strategic Plan subcommittees. Once determined, the subcommittees will establish critical goals and objectives for each focus area that will serve as the overarching work of the district for the subsequent 3-5 years.
---
To ensure an effective Strategic Plan, Lansing School District and MSU K-12 will ensure that the final product:
Reflects stakeholders' voices and needs in the development of system goals.
Sets long and short-term targets for continuous improvement.
Provides indicators and measures to track and report progress on goal attainment.
Provides clear direction to align Board, district, site, administrative and staff evaluation goals.
Provides timely feedback to stakeholders regarding growth and progress.
---
The Product
As a district, and with the support of our MSU partners, we will work together over the coming months to establish strategic planning goals that will guide the board and administration for the next three to five years. Once complete, the Strategic Plan will be posted on our webpage for full transparency. This plan will serve as the roadmap that Lansing Schools will follow for the next 3-5 years, and the district will provide annual progress monitoring reports to all stakeholder groups on both the progress of action plans and the performance of the organization.
---

Download a PDF poster of the Lansing School District Strategic Plan
The Lansing School District Board of Education approved a five year Strategic Plan in 2014. The plan was created by a committed group of parents, staff, business leaders and community members in support of a clear mission for the Lansing School District.
VISION STATEMENT
To accomplish our mission we will create a collaborative, high-performing, safe learning
environment that is integrated with our communities and focused on preparing students for global citizenship.
MISSION STATEMENT
It is the mission of the Lansing School District to provide educational excellence in a safe
and nurturing environment for all students.
WE BELIEVE
All students and their families deserve a quality education.
Staff, students, families and Lansing communities can contribute and learn from each other.
The needs of our students are our priority.
Learning occurs best when students are in a safe environment.
Diversity is our strength.
Relationships are based on respect for self and others, mutual trust and teamwork.
Learning is essential for success in a global society.
The Lansing School District is committed to its responsibility to deliver a quality education for career and college readiness.
STUDENT ACHIEVEMENT
All students will achieve or exceed state performance targets and graduate career and college ready.
OBJECTIVES:
Improve data-driven instruction by regularly utilizing various sources, including iCollaborate, student and behavioral data.
Create district wide coherence and improve student learning by implementing curriculum pacing guides and formative assessments.
Identify and implement models and partnerships that will increase students' engagement in career preparation.
COMMUNITY OUTREACH
The district will maintain and grow strong relationships with greater Lansing's diverse communities, agencies, organizations, and businesses.
OBJECTIVES:
Explore and expand opportunities for the greater Lansing community to engage with the district.
Improve communication with Lansing's diverse communities, including translation into a other languages.
Explore and expand opportunities for grants, donations, and partnerships in order to increase learning options for students.
Explore and identify approaches that will significantly increase positive family engagement.
LEARNING ENVIRONMENT
The district will provide a safe and nurturing learning environment.
OBJECTIVES:
Identify and adopt models for improving school climate and culture that include professional learning and problem-solving approaches.
Implement programs and protocols that will significantly reduce behavior referrals and out-of-school suspensions.
Implement programs, policies, and protocols that will significantly improve district morale and community perception of the district.
Implement behavior prevention, intervention, and intervention, and supports in all schools.
SUPPORT SYSTEMS
The district will identify, improve and implement effective and efficient support systems.
OBJECTIVES:
Complete a successful bond campaign in order to improve and reconfigure the district's facilities and provide students with 21st Century learning environments.
Update and/or replace outdated technology in order to provide students and staff with 21st Century learning tools.
Develop and implement rewards and consequences in order to reduce staff absenteeism.
Maximize personnel resources by maximizing staffing efficiencies.
FINANCE
The district will monitor and adjust resources in order to maintain and improve financial stability.
OBJECTIVES:
Update district infrastructure by implementing technology solutions to improve efficiencies in finance, human resources, and student information management systems.
Develop and implement strategies for increasing student enrollment.
Identify and implement strategies that will increase the district's fund balance.
---

Download a PDF poster of the Lansing School District Strategic Plan